MONDAY MORNINGTIMES... BUTT NO MIRABELLE!! ( 20 photos)
Hey! Goodmorningtimes, everybuddy!! 😊😊😊
Did you have a 'MAZING weekendtimes!!?? Sure hope so!! Plus truestory for reals I sure did!! Yup!! Was sooperfun awesometimes and stuff, butt.... prolly you are wonderthunking.....
"ARCHIE BRINDLETON... IT IS THE MONDAYTIMES.... WHERE IS MIRABELLE"!!?? .....................
Mirabelly is not feelings so good, guys!! Nope!!
Now, no worrythoughts, K? 'Cuz Mirabelle is AOK for reals. Yes. It is NOTHING SERIOUSFACE, butt for some reasonings she is having sooperbad allergeez waymoreworser than ever befores!! Yes. So she does not want to do poserating just nowabouts, K? K.
Truestory for reals Mum plus Pop are working sooperhard to make her all comfy a 'gain, butt just nowabouts, she is having some prollems. Yes. BUTT...if you 'member..........
I used to have the WORSTEST allergeez!! Yup!! I am not even joshing!! It was so sooperbad I would make scratchings on my faceparts 'till it was all ouchie with goopybloods and stuff!!
Not good, guys!! BUTT..... I want everybuddy to know nowabouts I DO NOT EVEN HAVE ANY ALLERGEEZ!! Nope!! Plus I do not take any pharmasillystuffs even littlebits!! Not even!!
It is a 'mazing what Mum plus Pop did for me with lotsa helpings from RAWCO.CA, plus MAIN STREET VETERINARY SERVICES plus ADORED BEAST APOTHECARY, so I am soopersure Mirabelly will feel waymorebetter soopersoon too, K? K!! She just needs restings, plus to take it easybreezy for some times. Yes. 'Cides...............
When I was doing my workerman work for the LONDON FIRE DEPARTMENT on the weekendtimes, Mirabelly's bestest friendlyboy, MAX n'vited her over to make her feel waymorebetter!! Yup!! He is a GOOD BOY!! Plus I am wanting you to know she had the BESTEST times!! Yes!! Those silly puppies are getting pretty SWEET for each other, guys!! That is for reals!!
Talkings 'bout my weekendtimes FIRE SAFETY MISSION, I wanna share lots'nlots of picturestories with you, K? K!! IT. WAS. AMAYZAZING!! Have a looksee!! .............................
OKEEDOKE!! My bestest friendlypal FIREFIGHTER JASON n'vited me to come with him to the CHILDREN'S SAFETY VILLAGE for the BIRTHDAY PARTYTIMES they have every year, guys!! Yup!! So 'course I said 'COURSE!! Here is where SKYROLLER BLOO waited for us in the shadybits!! ..........................
Plus here is the very frontparts of the CHILDREN'S SAFETY VILLAGE, GUYS!! Do you know 'bout it!!?? Have you everever seen a CHILDREN'S SAFETY VILLAGE befores!!??
'Cuz it is AWESOMETIMES!! You will see!! ........................
Here is how it looks for chirpybirds in the ceilingsky and stuff!! Pretty cool, amirite!!?? Looks just like a for reals little peoplevillage, BUTT...........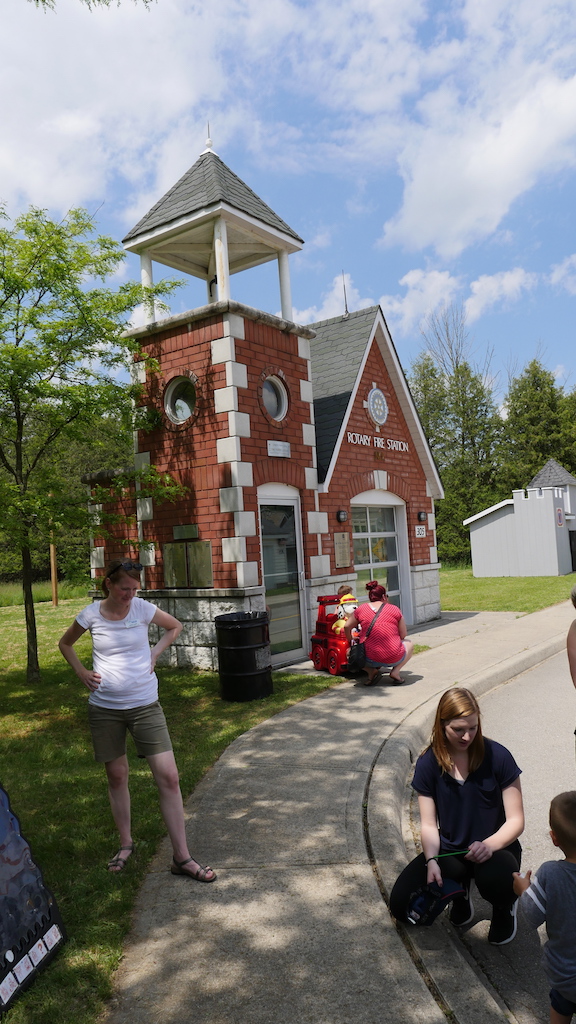 Everythings is TEENSY-SIZE FOR JUNIORPEOPLES!! IKNOW!!
It was the eleventeenth (15th year - MUM) birthdaypartytimes, plus alla the EMERGENCY SERVICES were there for hanging out with the juniorpeoples!! Yup!! AMBULANCE, POLICE, plus 'course FIRE peoples were all there to brainlearn kids 'bout how to STAY SAFE!!
Plus can you see!!?? There was even teensy rollycars so the juniorpeoples could drive 'round to brainlearn 'bout how the rollycar roads work too!! It is the soopercoolist!! ...................
Here is where me plus alla my LONDON FIRE DEPARTMENT Friendlyfriends were hanging out, guys!! I got my very own place for putting my buttparts under a gigantical leafytree!!
There was lotsa brainlearning games, plus sooperfun prizes, plus basically it was the BESTEST!! .................
Wasn't too much times 'fore alla the juniorpeoples started to show up to be inthesameplacefriends with me!! Yup!!
"HELLO JUNIORPERSON!! WOULD YOU LIKE TO PLAY BRAINLEARNING GAMES!!??"
Check out alla the peoples who came to see us, guys!! There was lots'nlots!! ..............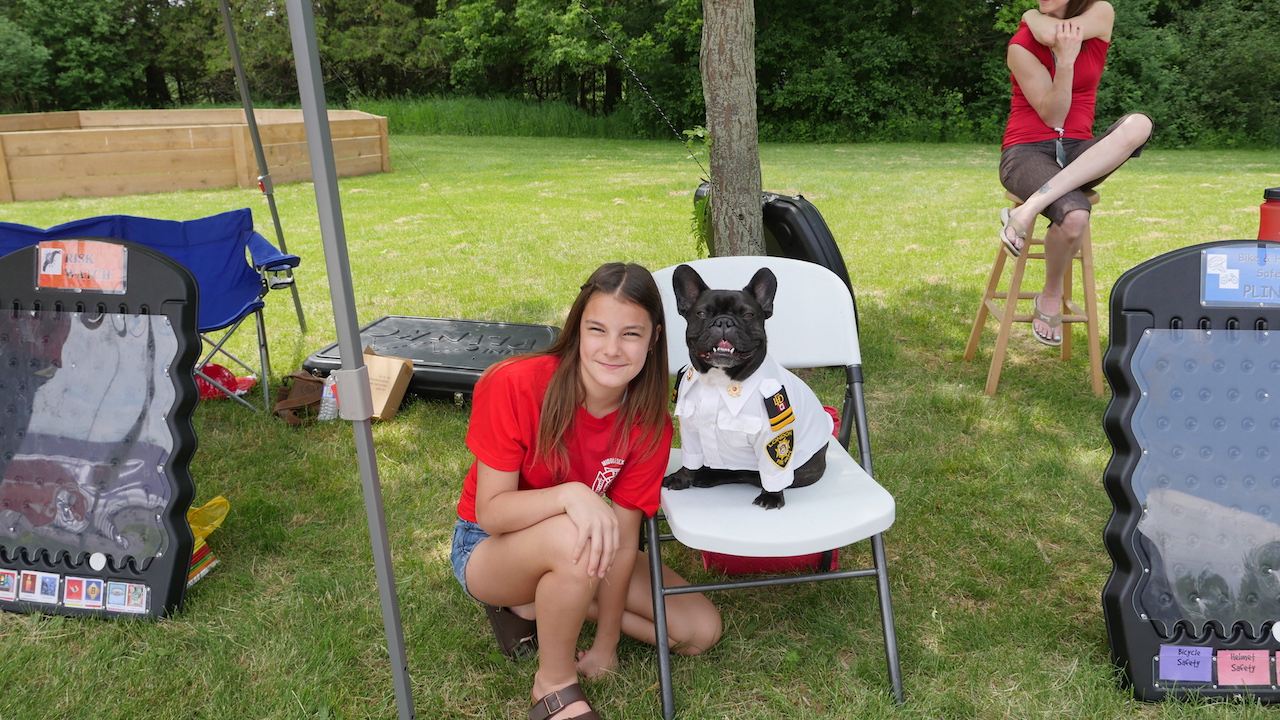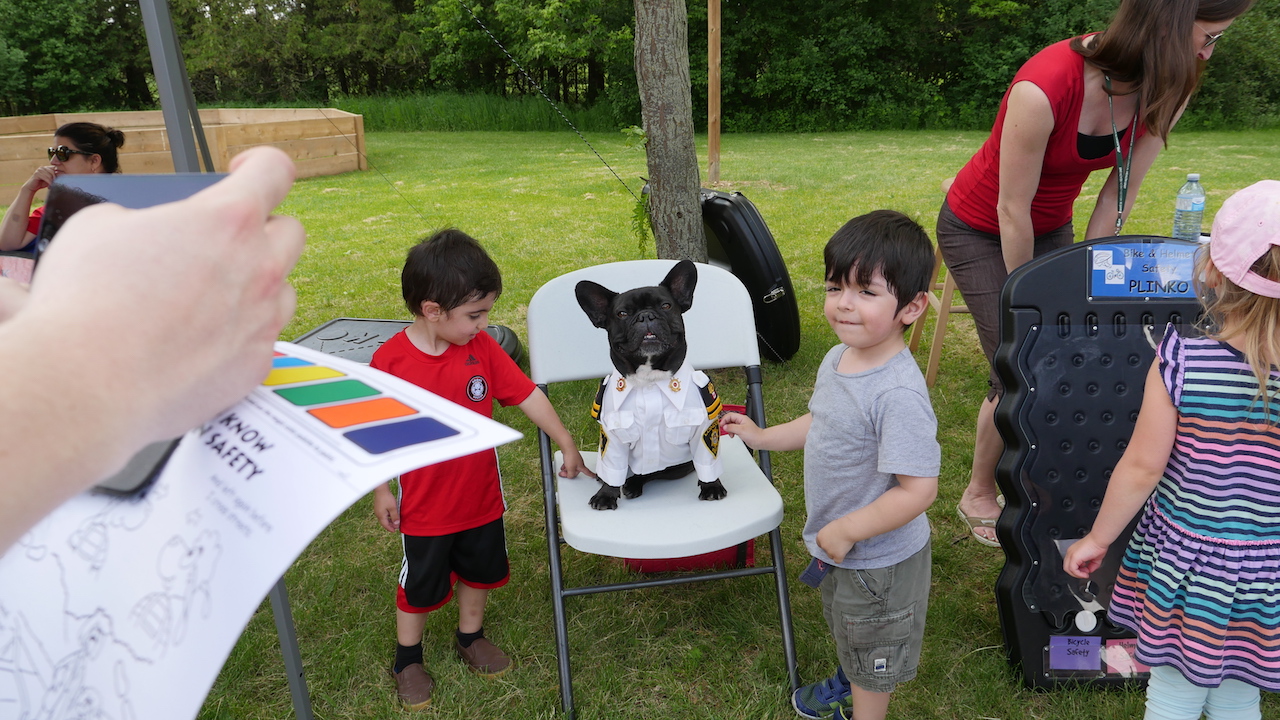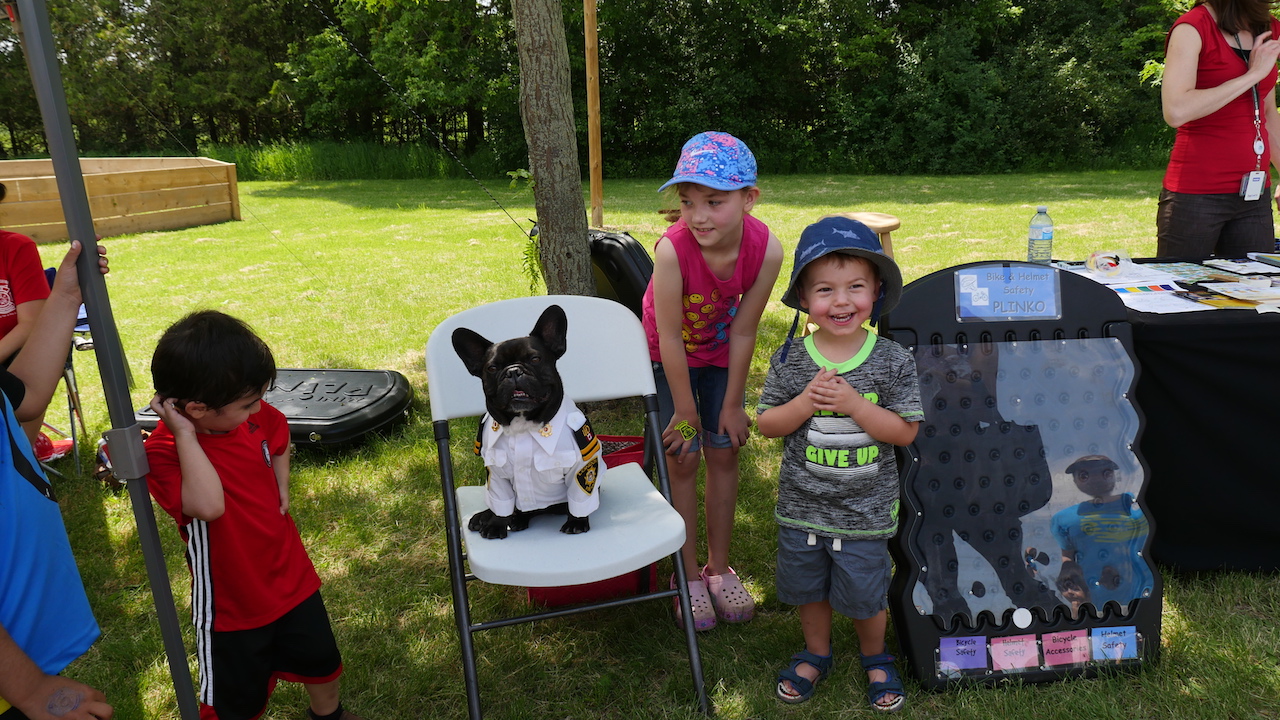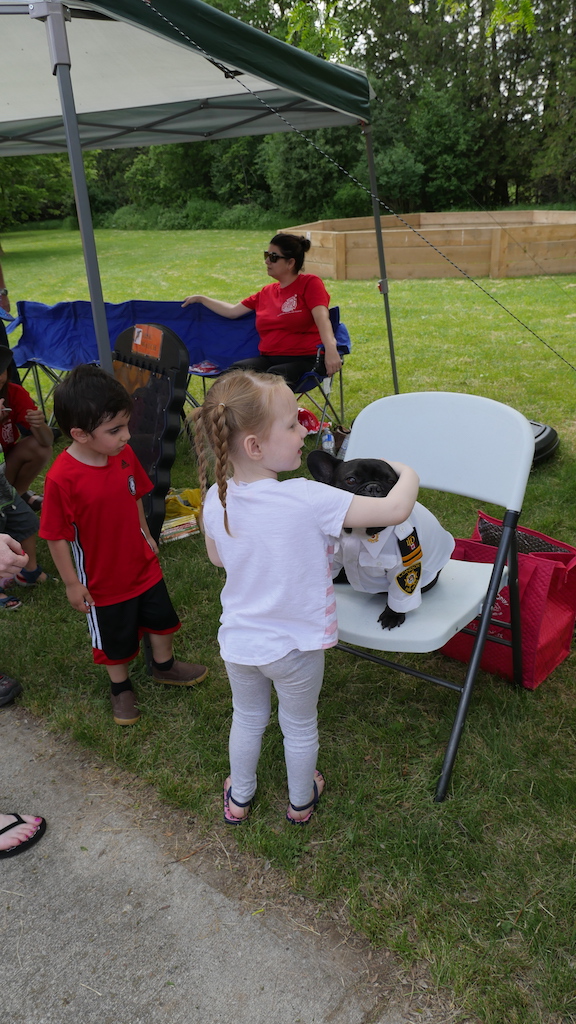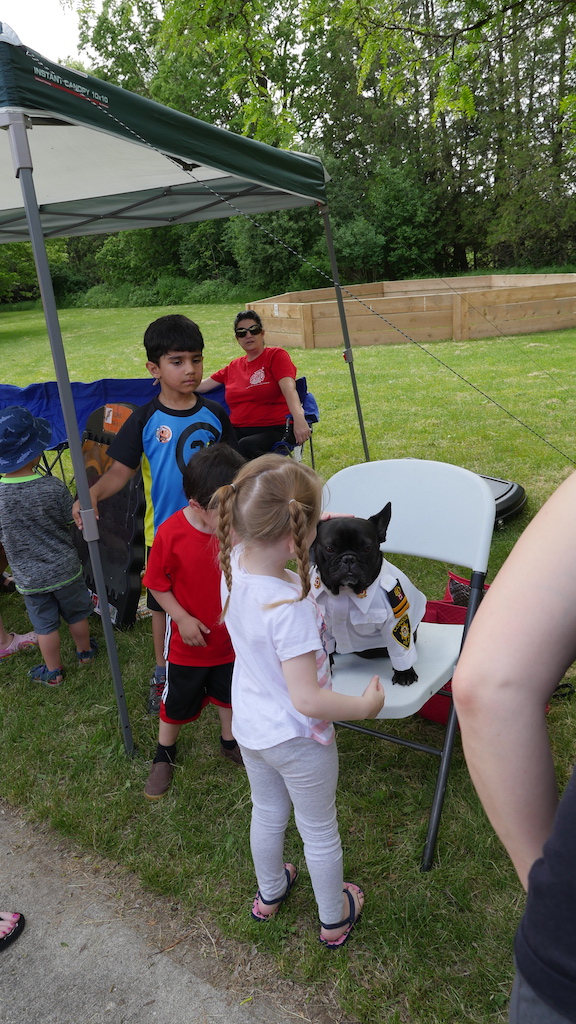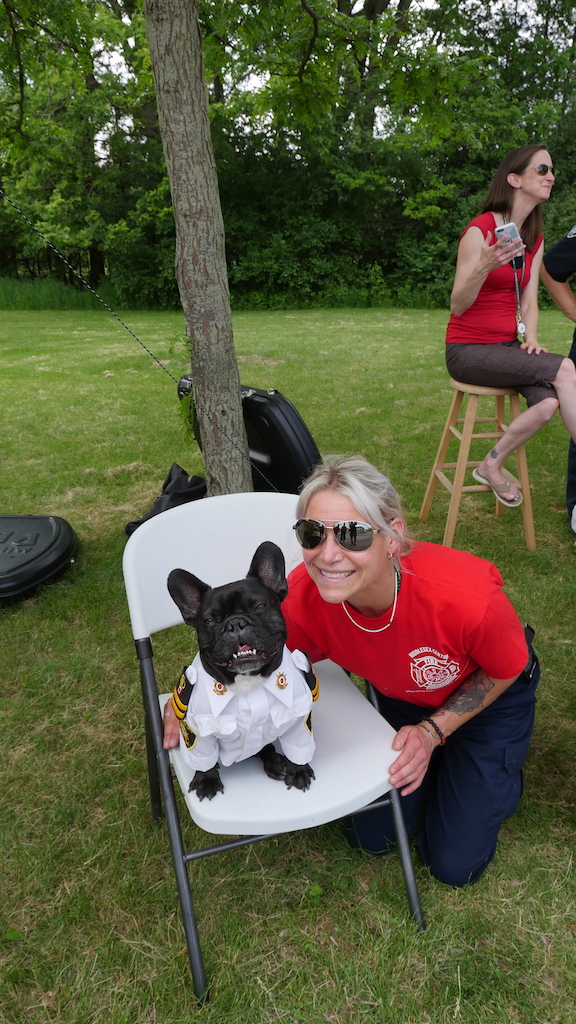 PLUS..... this was the FIRSTEST times I everever did my FIRE SAFETY WORKERMAN WORK in the outsideplace, guys!! So we had a sooperspecial friendlypal come by too!! Check it out!! ..................
It was a BENNY!! (Benny is the Brindleterm for Groundhog - Mum)
YUP!! He came real close, plus I got sooper'cited to see him!! Was sooperfun!! He filled his belly with juicy leafybits, then went 'back to his 'partmenthouse in the grassycarpet!! Truestory!! ...........
Nextofalls I got to hang out at the FIRE DEPARTMENT RUMBLETRUCK, guys!! I luvluvlove to hang out on the rumbletrucks!! Yes!! So I put on my special brainmelon hat for picturestories!!
Then even waymorelots of peoples came to be inthesameplacefriends!! You will see!! ...................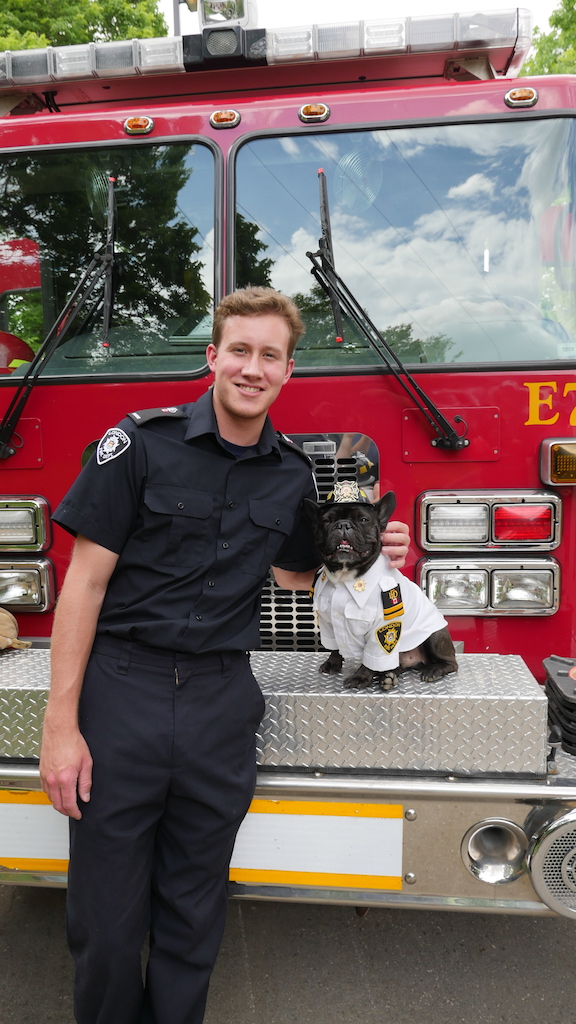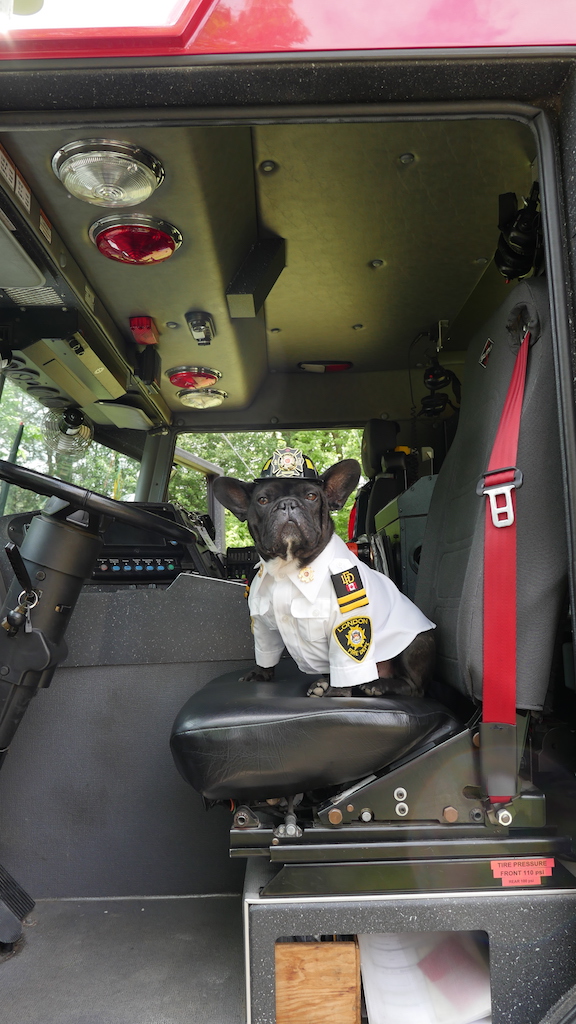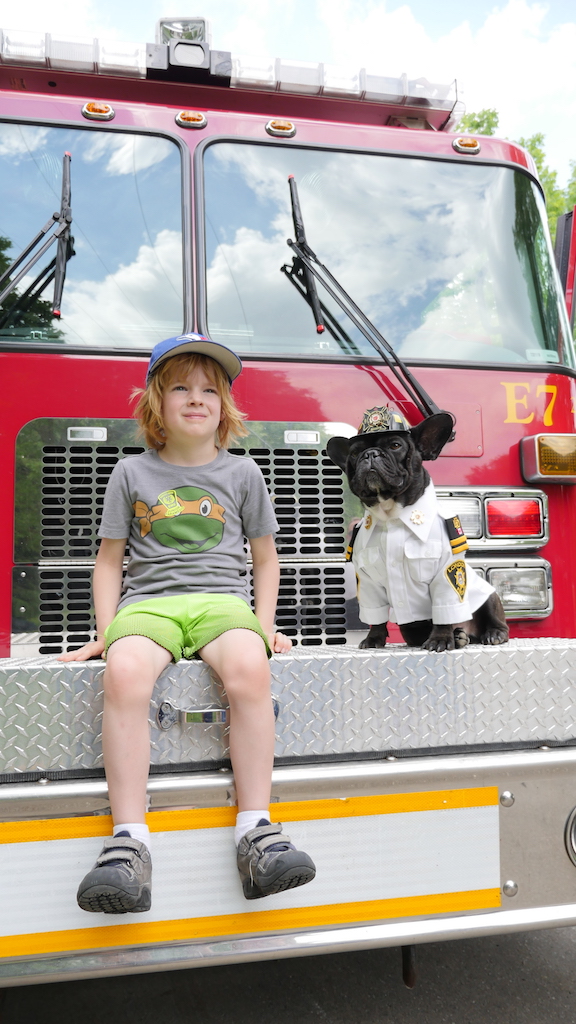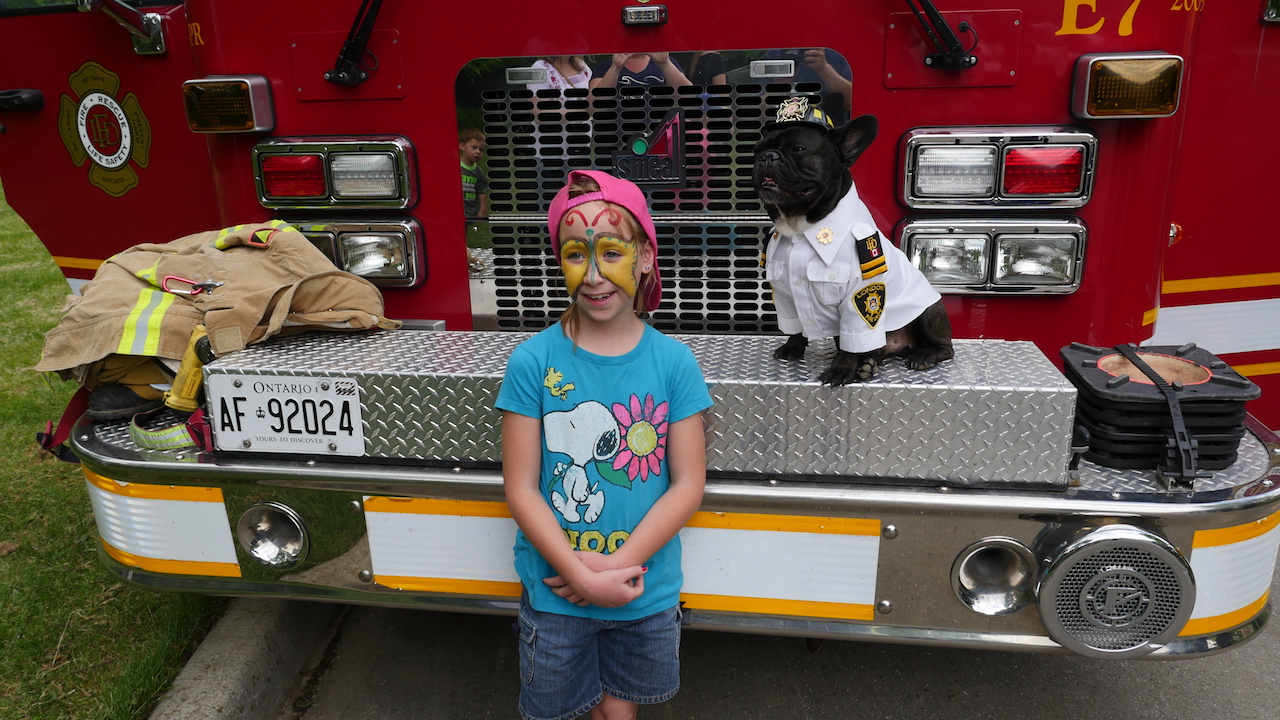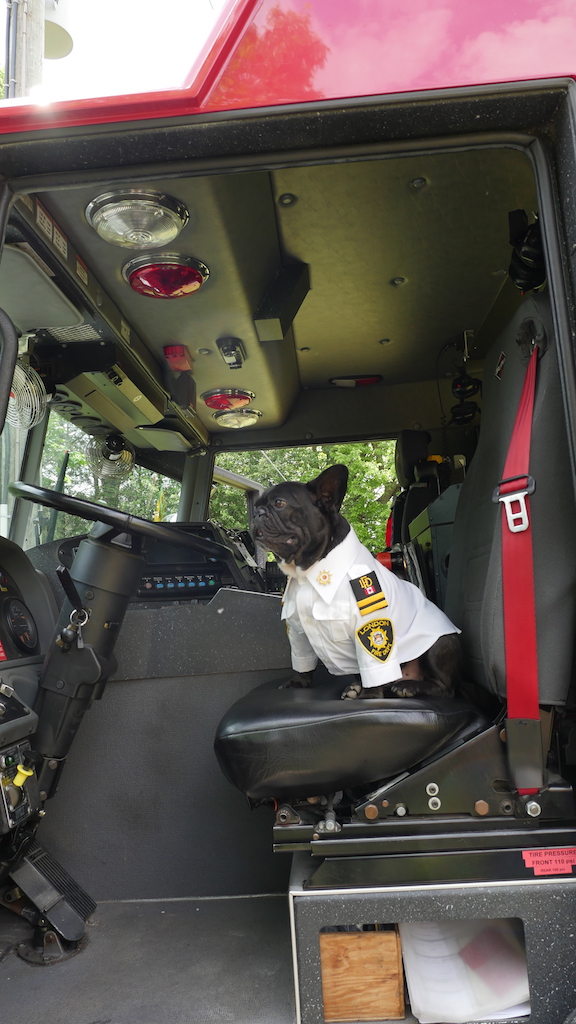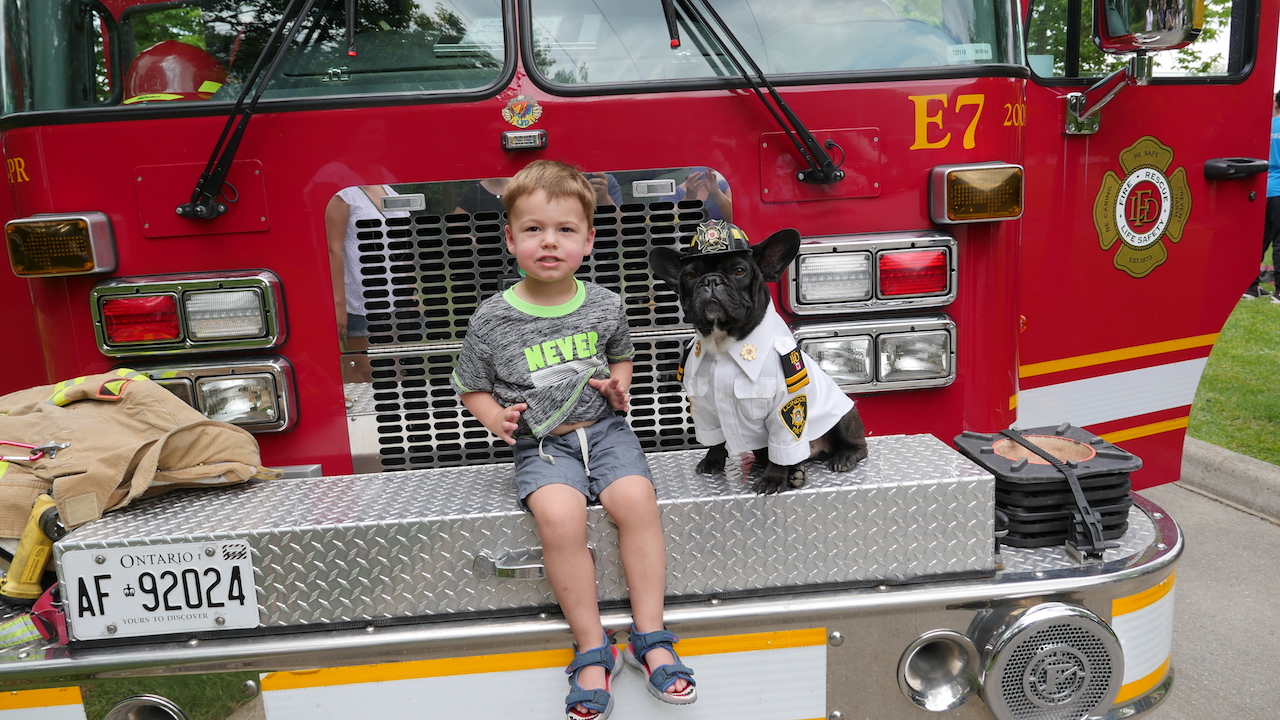 Basically I had the BESTEST times, guys!! Butt it was not even all done YET!! Nope!! Then I got to go INSIDE to the special brainlearning centre!! Plus you know what happened THEN!!??
MORE INTHESAMEPLACEFRIENDS!! YUP!! ........................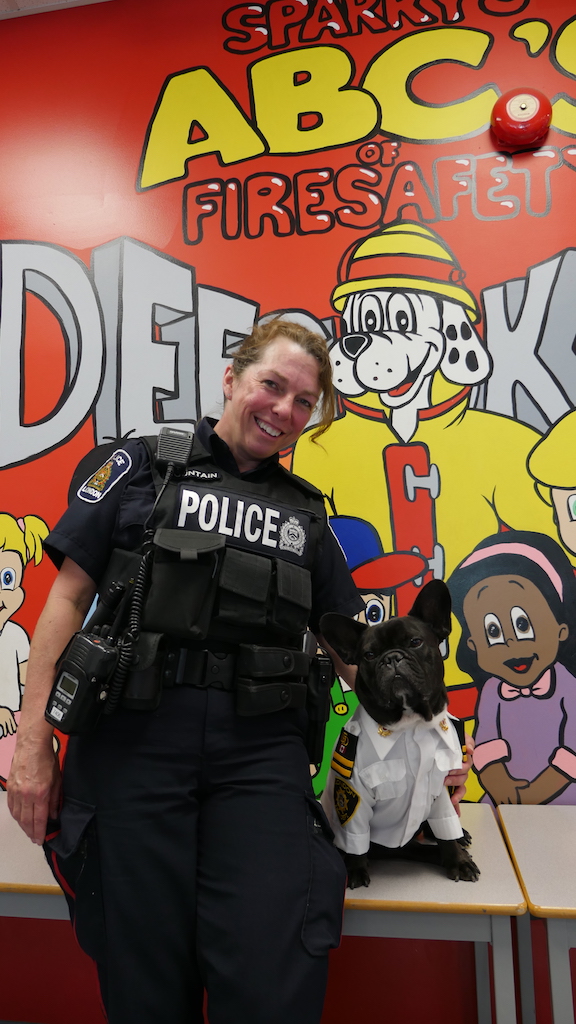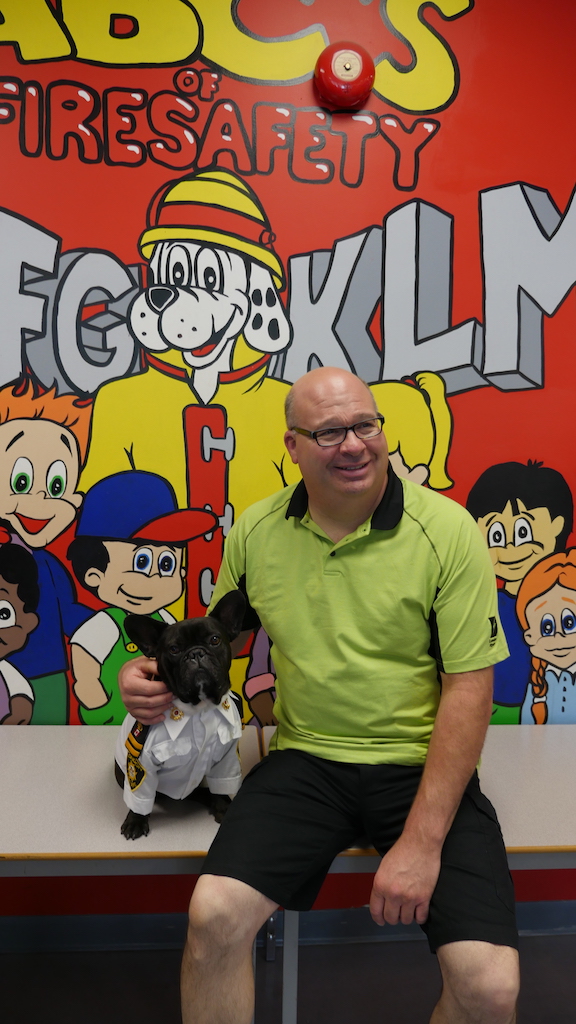 Plus 'fore I go I wanna show you some soopercool stuffs from inside the brainlearning centre!! Yes!! I had neverever been in there befores, so FIREFIGHTER JASON showed me a soopercool room where juniorpeoples brainlearn how to get out of their foreverhomes if there is a FIRE!!
Check it out!! ........................
Here it is, guys!! Can you see!!?? This is the pretend sleepingroom where juniorpeoples get to practice how to get to the outsideplace SAFE!! Yes!! ....................
Over in THAT Corner is a little modelmap of the foreverhome, plus there is a SMOKE ROBOT up in the ceilingparts that makes it all smokey and stuff!! Yup!!
Then soon as the SMOKE ALARM goes off, the juniorpeoples can practice how to.....
GET OUT, PLUS STAY OUT!!
Sooper'portant, amirite!!?? If you live near here, or if you have a SAFETY VILLAGE where you are, you should go check it out!! It will be sooperfun awesometimes for you too!! Promiseface!! ..............
Plus here is my most favouritist picturestory from the whole entire daytimes!!
It is ME, Archie Brindleton, plus my bestest friendlypal FIREFIGHTER JASON having bellychuckles!! A soopergigantical SHANKSH to FIREFIGHTER JASON for being 'mazing, plus for helping me do my FIRE SAFETY WORKERMAN WORK allover everywheres!! He is the BESTEST!! ........................
Okeedoke, everybuddy!! That is 'bout everythings for the nowabouts!!
Have a sooperfun Mondaytimes, K? Plus 'member to not forget.... take real good care of yourselfs, plus try to have some fun 'cuz.... YOU DESERVE IT!! Yes!!
Plus no worrythoughts 'bout Mirabelly, guys!! Seriousface!! She is doing AOK plus she misses you, butt she will be back to her saucyself soopersoon too!! Yes!! 😊💜
HappyHappyMondaytimes, everybuddy!! 😊😊😊
💜💜💜 Luvluvlove you guys!! 💜💜💜
H💜 H💜 H💜