IT'S INTERNATIONAL ZOOMERSJUICE DAY, EVERYBUDDY!! (50+ photos)
Over thisaways, guys!! 😊❤️😊❤️😊❤️
Can your lookingmarbles even see us in alla this GREENYGREEN and stuff!!?? ……………
Great googilymoogily!! 😊❤️
No joshing this is prolly the most greenygreenist chunk of wilderwild I have seen in all of evertimes!! Mirabelle too!! ……………..
This is sooper'mazing, 'cuz if you did not know … THE FALLINGDOWNTIMES is almostly here, guys!! Yup!!
Plus in lotsa other chunks of the wilderwild, The Naturemama is going crazybananas with the most 'mazing-ist sooperbright, plus sooperfun *rainbowparts ( *colours - Mum) allover everywheres!! ………….
Butt roundabouts where WE are …. IT IS STILL SOOPERGREENYGREEN!! It's basically MAGICALLISH, guys!!
Dunno 'bout YOU, butt me plus Mirabelly luvluvlove The Fallingdowntimes 'cuz we luvluvlove alla 'the 'mazing beautifullish rainbowparts our NatureMama puts allover everywheres!! IKNOW!! …………
'Magine if everybuddy did what The Naturemama plus alla her babies do for The Fallingdowntimes, guys!! Just 'magine!!
You would go to your workerman workingplace wearing the same 'zact clothes with the same 'zact rainbowparts every daytimes for sooperlongtimes, daytimes after daytimes, 'till ALLASUDDEN …. it got littlebits cooler in the outsideplace … then … WHAMMOKABLAMMO …
You show up to your workerman work the very next daytimes wearing the most crazybananas rainbowparts in all of everywheres!! Nextofalls, every daytimes you come in with even more crazybananas colourparts, plus waymorelots of them plus MORE plus MORE, 'till ALLASUDDEN….. OUTTANOWHERES … WHAMMOKABLAMMO!! ….
You take off alla your clothes, plus go to the Dreamingplace 'till the Bouncy Springtimes!!
Ha ha!! Bellychuckles!! That would be the FUNNIST, amirite!!?? IKNOW!! …………….
Guys … there is so much greenygreen out here that it is SOOPEREASY for hiderating like a sneakyninjaman. Yes. Me plus Mirabelly have to be soopercareful no ROBOT BEARS jump outta the greenyness at us!! Yes!! ………..
Everywheres I point my lookingmarbles alls I see is GREENYGREEN!! It is crazybananas!! ……….
Lookit over THATTAWAYS, guys!!
GREENYGREEN!! ………
Plus wayfarover THISAWAYS is a whole bunch more of …
GREENYGREEN!!
Basically it is awesometimes out here, plus …. I know for reals there are not gonna be so many more daytimes like this 'cuz …. THE GOOBER OLD WINTERMAN is coming, pretty soon!! FOR REALS!! ………
OH!! Hey!!
I almostly forgotted to say!! Did you know!!?? This very daytimes is ….
INTERNATIONAL ZOOMERJUICE DAY!!
Can you even BLEEVE it!!?? Not me!! MUM says EVERY daytimes is zoomerjuice daytimes for her!! Ha ha!! Truestory our MUM luvluvLOVES her zoomersjuice, guys!! Yup!! 'Course POP is not so much into the zoomersjuice!! Nope!!
It's SCIENCE, guys!! YETIpeoples do not like zoomersjuice. Nope!! Plus everybuddy knows our Pop is part YETIperson, so that totally checks out!! ……………
Anyhoozle … you can brainlearn waymorelots 'bout ZOOMERSJUICE plus INTERNATIONAL ZOOMERSJUICE DAY by clickyclicking the those zoomersbeans or RIGHT HERE!! YES!!
https://www.daysoftheyear.com/days/coffee-day/
Soopercool, amirite!!?? Pretty much!! ………………
OKEEDOKE!! Now is when I tell you guys alla 'bout me putting on my ASSISTANT FIRE CHIEF uniform, plus goings out to a soopercool shoppingstore to brainlearn a whole buncha peoples 'bout FIRE SAFETY!! Yup!!
Bestest part is that THIS times I was n'vited to go to …..
OLDENTIMER NAVY!!
Truestory I have neverever been to an Oldentimer Navy, guys!! Not even one times and stuff!! Basically I was SOOPER'cited for reals!! …….
'Course it was my bestest buddypal FIREFIGHTER JASON who n'vited me, 'cuz everytimes I do my FIRE SAFETY workerman work, I go with JASON!! Yup!! He is the BESTEST!! ……..
He broughted my most favouritist comfychair, plus a whole wooden hill fulla FIRE SAFETY stuffs for giving a 'way to everybuddy we got to see!! …………….
There was even BLOONS plus a sooperflat rumblytruck for checking out!! Was AWESOMETIMES!! ……….
LOOKIT ME, GUYS!! 😊❤️
Can you see!! I totally got to pretenderate I was driving the rumblytruck!! Hee hee!! …………
Plus …. FIREFIGHTER JASON was not the only other friendlypal from the LONDON FIRE DEPARTMENT that was there, guys!! Nope!! Not even!!
Truestory there was whole bunch 'cuz they broughted a FIRE DEPARTMENT RUMBLYTRUCK TOO!! IKNOW!! ……….
Only prollem was …. there was lots'nlots of rainingdrops in the outsideplace, so not so many peoples got to check it out!! IKNOW!! Bummer and stuff!!
Butt … alla the other FIREFIGHTERS got to hang out inside 'till the rainingdrops went wayfaraways!! That part was the coolist!! …………..
OH!! Plus check THIS out, guys!!
Peoples say I SIT SOOPERSTILL when I am doing workerman work, butt bleeve you me THIS puppy was waymorebetter at poserating than even ME!!
Guys … he did not even moverate one times!! SERIOUSFACE!! …………….
Plus my most favouritist part of doing FIRE SAFETY brainlearning is making big piles of inthesameplacefriends!! YUP!! So that is totally what I did!! LOOKIT!! ……………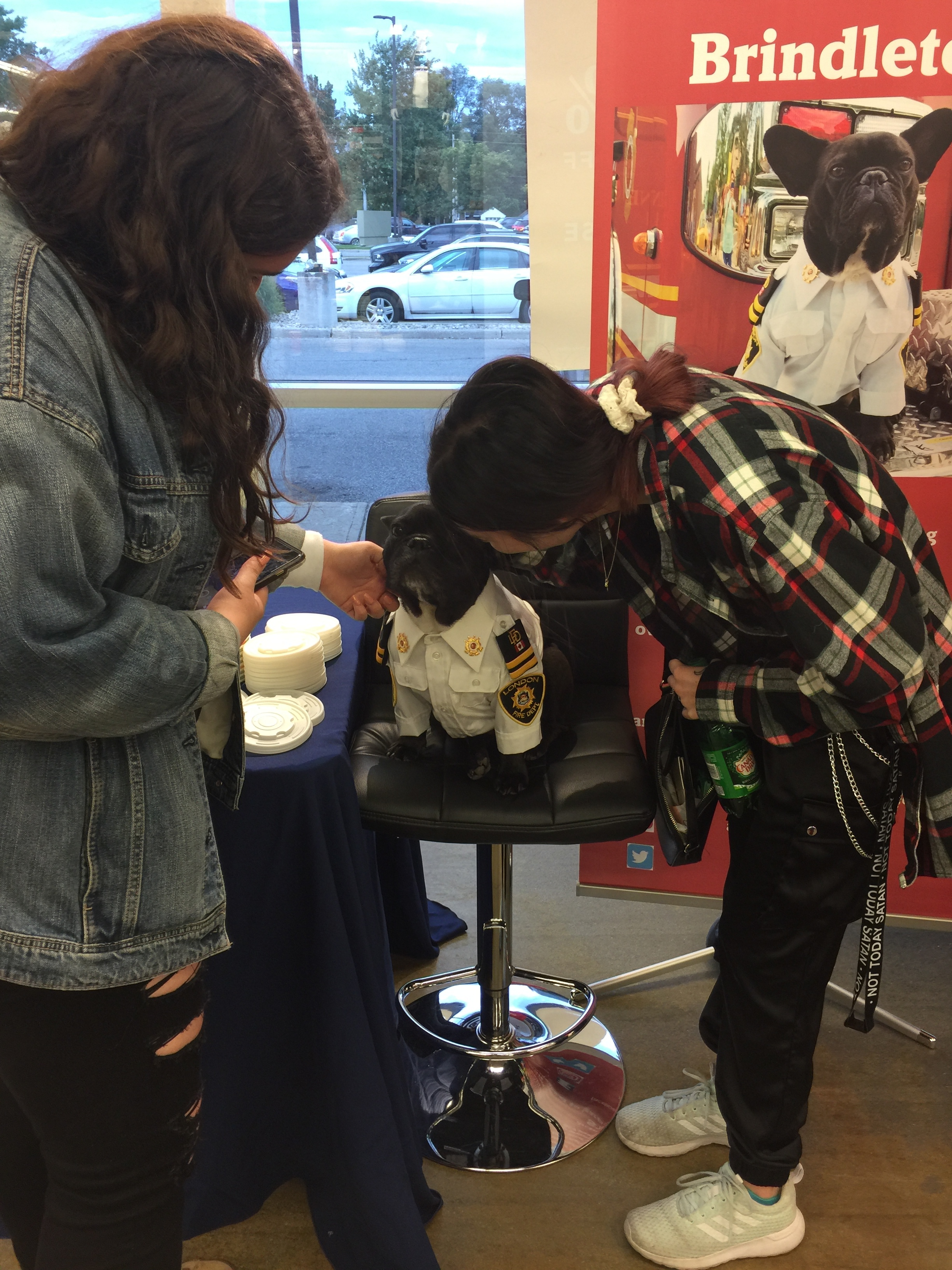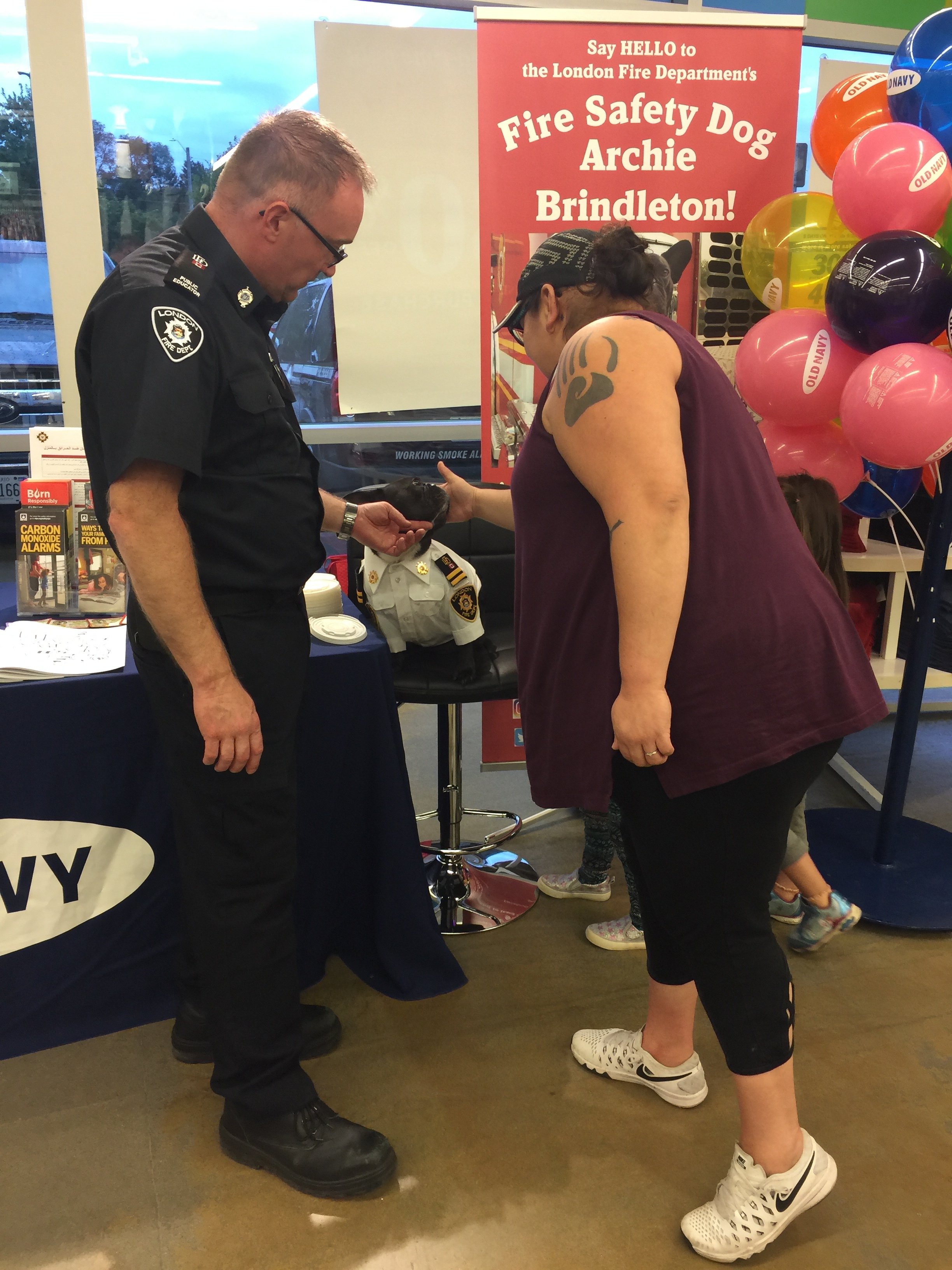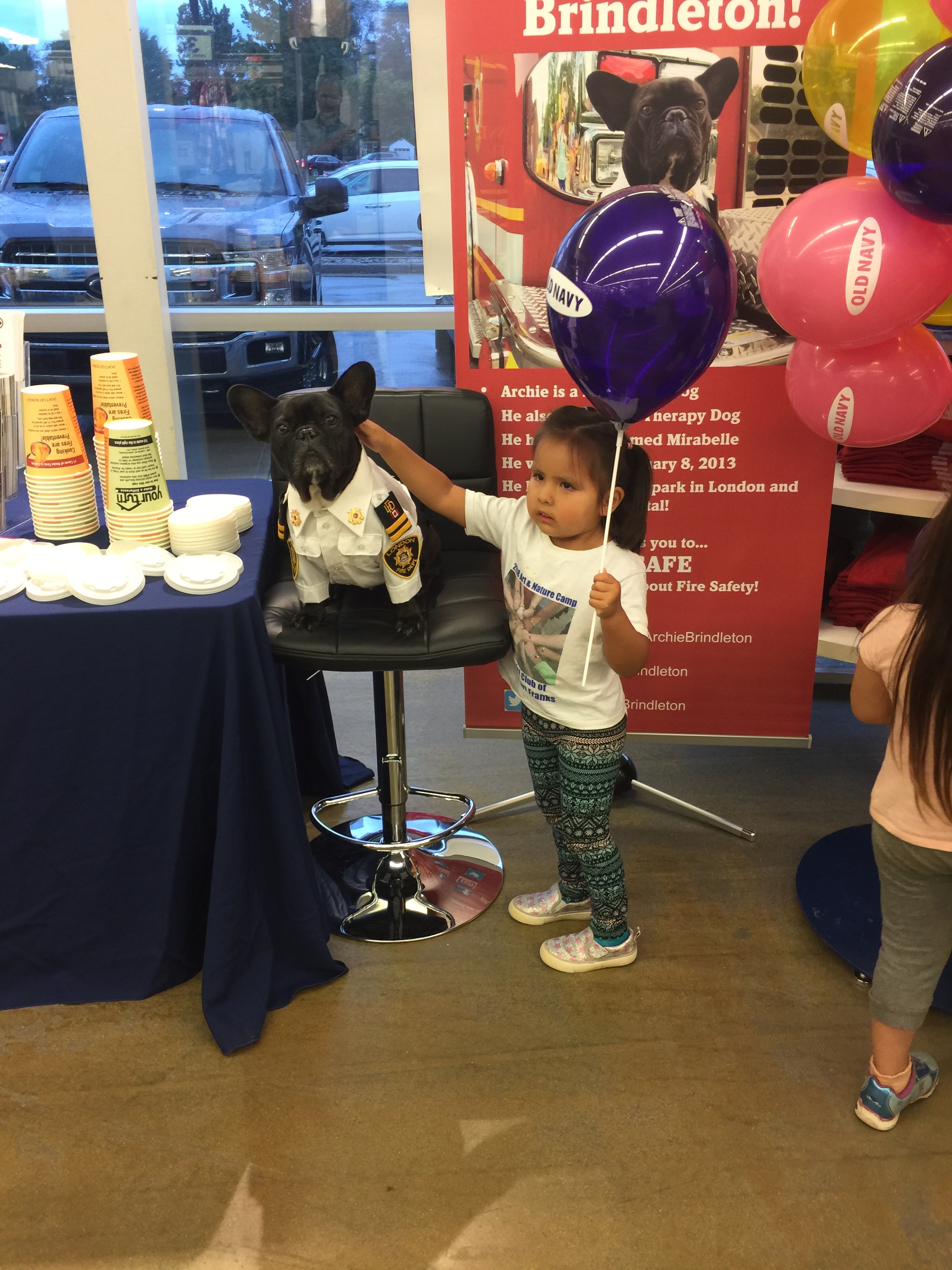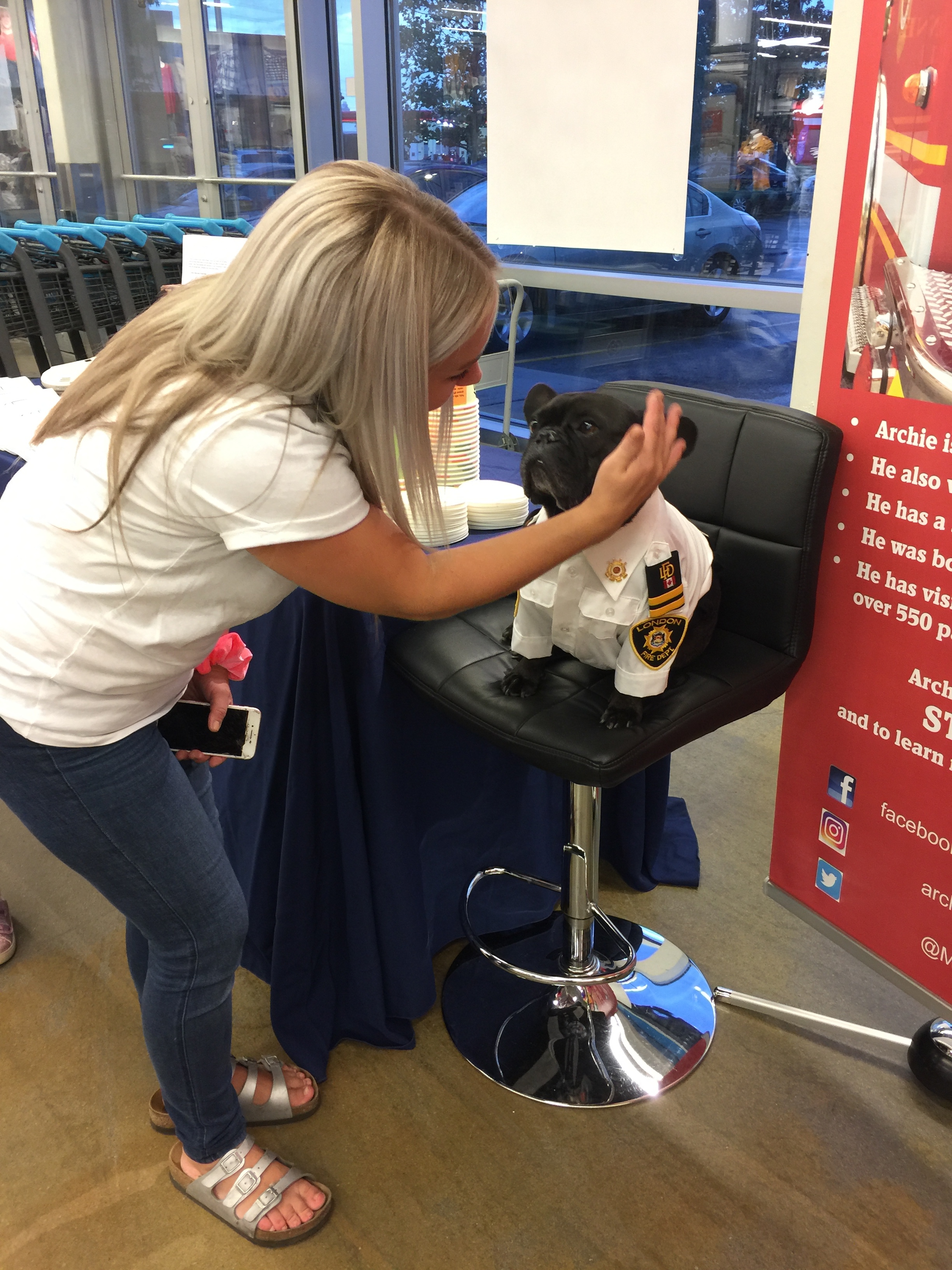 Everybuddy was soopernice, plus me plus JASON got to hang out with a whole buncha the coolist inthesameplacefriends!! THE BEST!! ………..
Plus we gave a 'way a whole buncha stuffs too!! Yup!!
Plus do YOU know what is maybe prolly for reals the most 'PORTANTAL things for giving a 'way!!?? DO YOU!!?? ………………….
Guys …. it is totally these special CUPS For filling with GREASYGOOPS!!
I am not even joshing!! Did you know!!?? ……………..
Big piles of peoples are STILL putting greasygoops down their kitchen sink!! IKNOW!! Plus I can tell you for reals that is a gigantical prollem for every citytownsburg!! Greasygoops goes down the sink real easybreezy when it is cozywarm, butt soon as greasygoop gets all chillybilly in the pipes and stuff, it gets HARD LIKE BOULDEROCKS FOR CRYING OUT PETE!!
Our FOREST CITY was losing big piles of dollarpennies cleaning out alla the greasygoop 'till they started giving a 'way these 'mazing cups!! Maybe where you are, you can askerate your FIRE DEPARTMENT friendlypals for some too!! YES!! …………………
That's bout it, guys!! Was sooperfun awesometimes, plus NEXT weektimes I am gonna be out a bunchatimes in my uniform 'cuz wamnna know why!!??
'CUZ IT IS GONNA BE FIRE SAFETY WEEK AND STUFF!! ……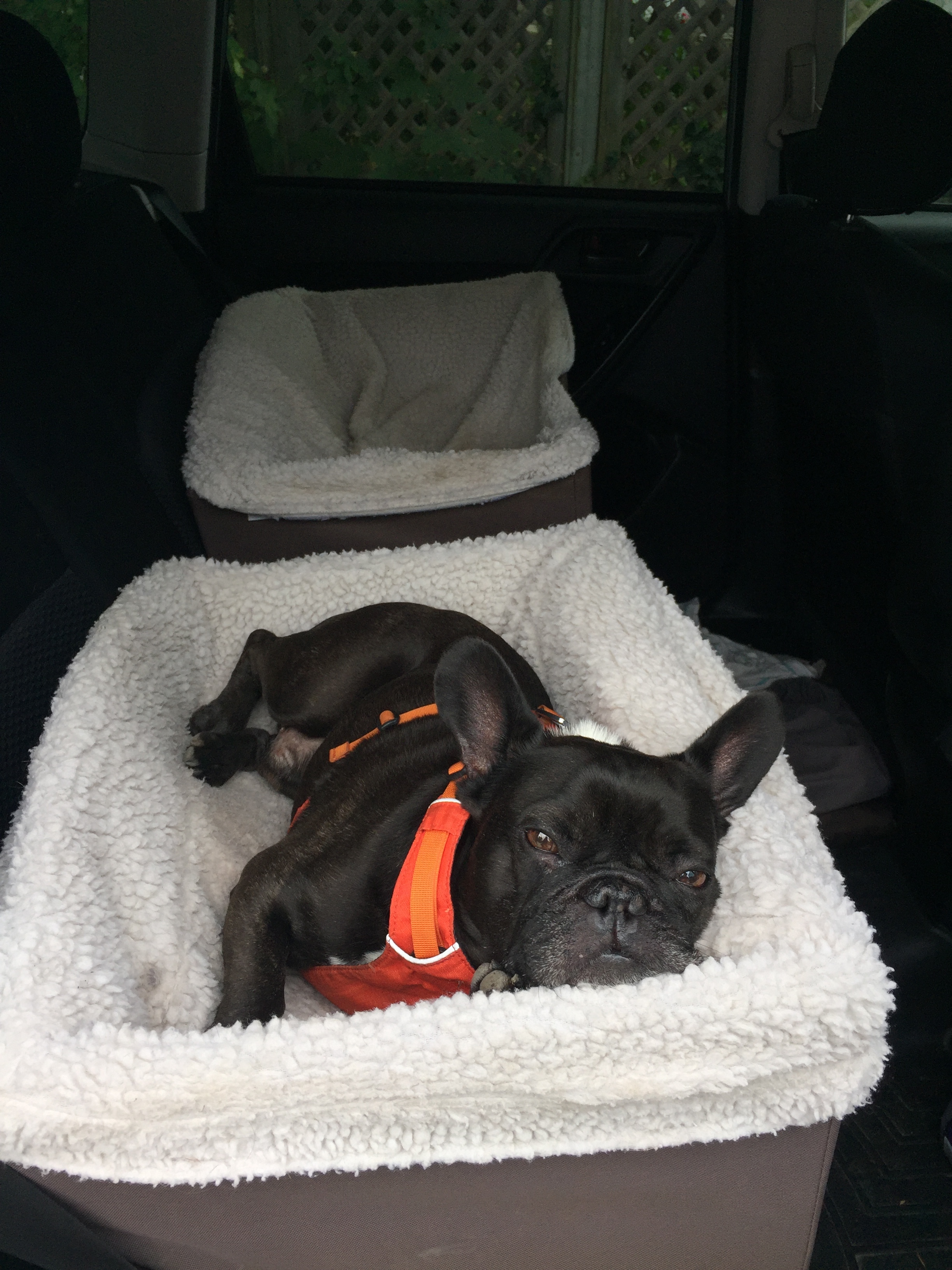 OH!! Hee hee!! Here is what I lookerate like when I come home from doing my workerman FIRE SAFETY work with FIREFIGHTER JASON!!
It is soopertough work, guys!! I come home all POOPERED!! My "get-up-and-go" got up and left!! Ha ha!! …..
AAAAAAAANYHOOZLE …. Shanksh, for hanging out with us friendlyfriends!!
Now is when me plus Mirabelly gotta go-go-go 'cuz we are pretty sure there are ROBOT BEARS just over thattaways!! Pretty sure, plus we do not want to lose our lunch money to those goobers!! NOT EVEN!! …………
See you nextimes, everybuddy!! 😊❤️😊❤️😊❤️
'Member to take real good care of yourselfs, plus to be real safe with firestuffs plus when you are cookerating too, K? K!!
SAFETY FIRSTEST, YOU GUYS!! …………..
Plus 'member to not forget: From me, ARCHIE BRINDLETON, plus MIRABELLE, plus MUM plus POP….
The whole, entire Brindlebunch
luvluvLOVES you guys!! YUP!!
😊❤️😘❤️😍❤️
Forever plus everever!!
H❤️H❤️H❤️
H💜H💜H💜
P.S. If you are needing extra HappyHeartHugs, come find us in the DReamingplace for cozypile snugglesnorts, K? K!! 😊❤️😊❤️😊❤️