LET'S GO ONNA HAPPYHEARTMISSION, EVERYBUDDY!! (21 photos + galleries)
HEY GUYS!! 😊❤️😊❤️😊❤️
This is AMAYZAZING you are here!! YES!! Did you know!!?? I am sooperhappy to see your faceparts this morningtimes!! I am not even joshing!! ………
Truestory I am just 'bout to go onna HappyHeartMission, plus it would put big piles of Happy in my Heart if you come too, K? K!! This is gonna be AWESOMETIMES!! ** BUTTWIGGLE **
OH!! That 'minds me!! Did you know!!?? Did you know the goober OLD WINTERMAN came back this lastest weekendtimes!!?? I am not even joshing!!
Truestory it was soopernice in the outsideplace, then allasudden … WHAMMOKABLAMMO ….
IT WAS THE WINTERTIMES A 'GAIN!! …..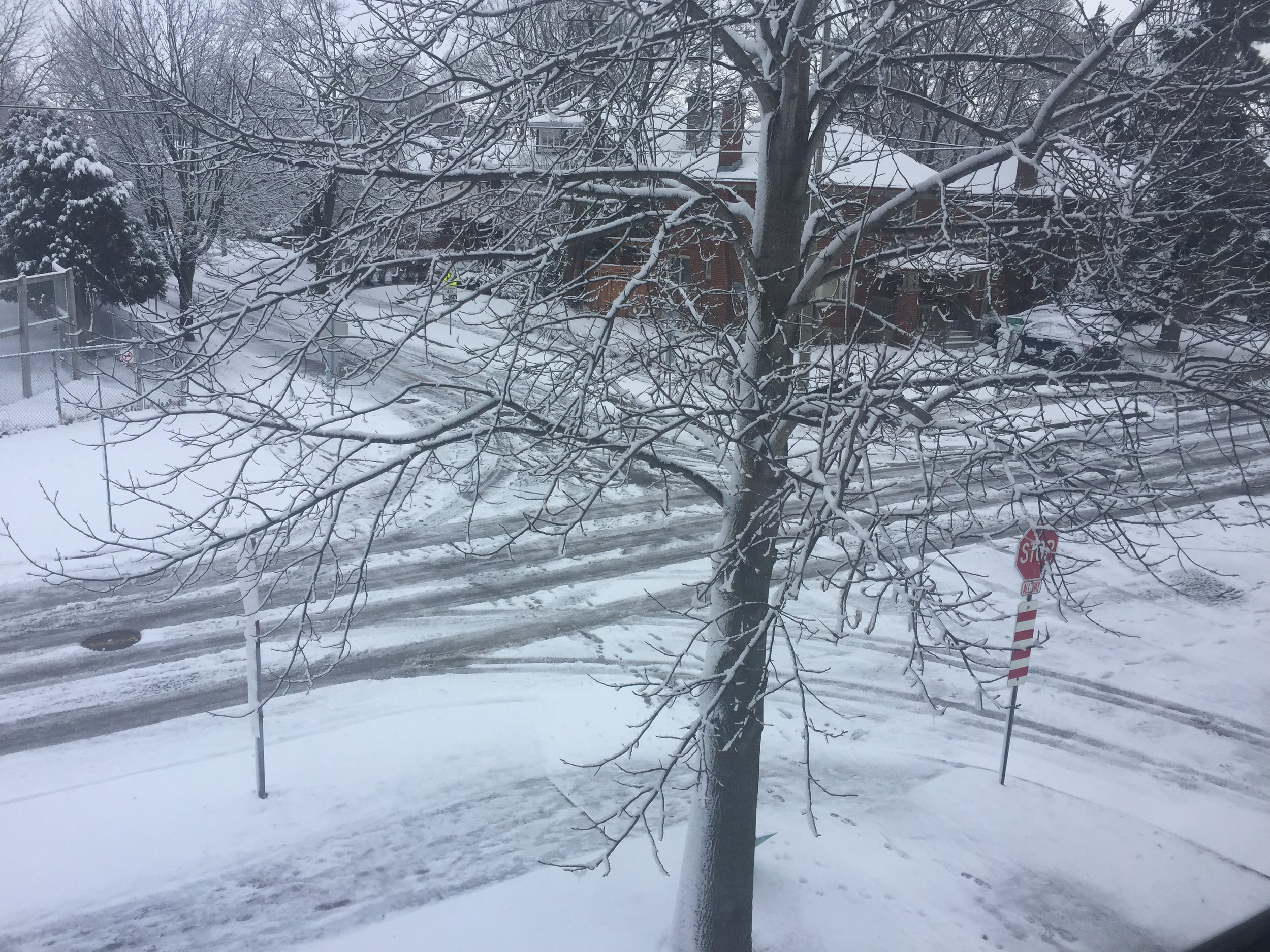 Can you even bleeve it!! When I came back from the Dreamingplace Saturday morningtimes, I could not even bleeve our lookingmarbles!! I KNOW!! Mirabelle too!! Mum plus Pop too TOO!!
What a goober, amirite!!?? Pretty much!! Butt no worrythoughts, you guys, 'cuz THE NATUREMAMA broughted a whole buncha cozywarm degrees that chased him a 'way a gain!! YES!! ……………
That is how come I am in my BIRTHDAY SUIT this daytimes!! YUP!!
Well 'cept for my …………
… sooperspecial 'ventureharness for HappyHeartMissions and stuff!! YES!!
That is what alla the wordybits on the sides say!! They say …
"LOOKOUT EVERYBUDDY!!
GENTLEMAN PUPPY FULL-UP WITH HAPPYHEARTHUGS PLUS EXTRA LOVINGS COMIN' ATCHA!!"
Yup!! Basically!! Or somethings like that!! ………………………….
Okeedoke!! All ready and stuff!!?? Then let's …
GO-GO-GO!! …..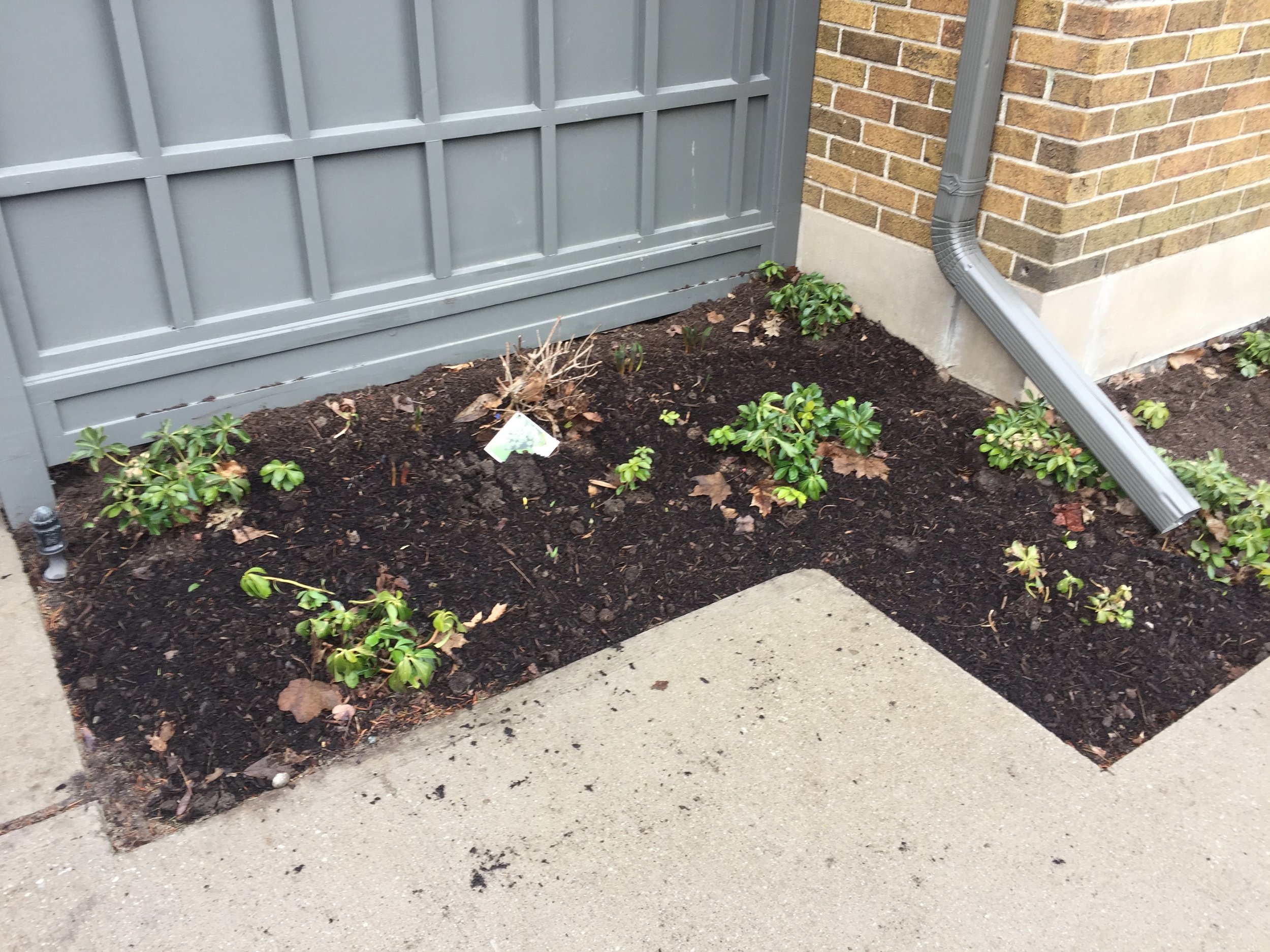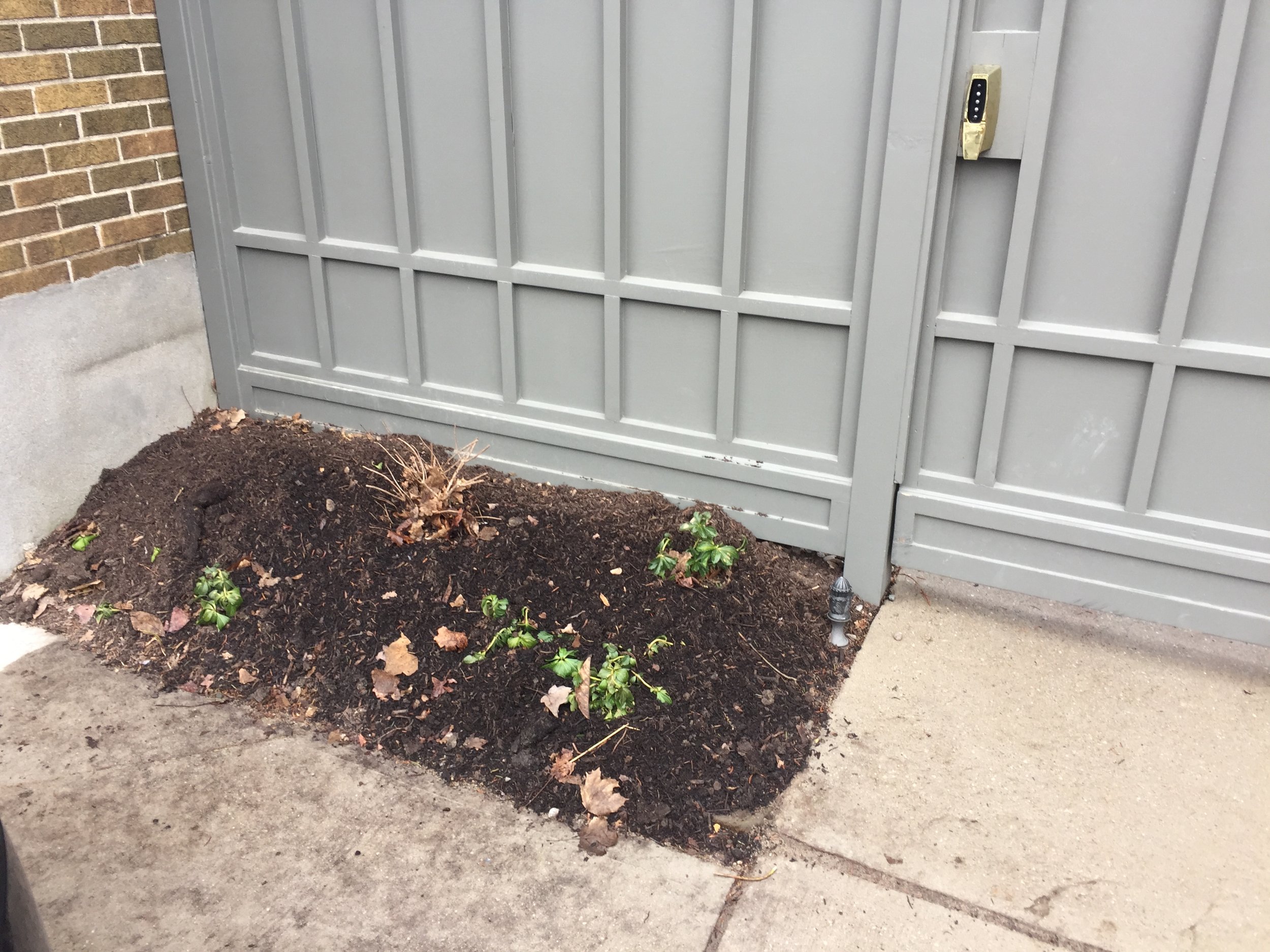 Hey!! Check it out, guys!! Can you see!!??
This is how come I know the Old Winterman has gone a 'way for reals!! YUP!! 'Cuz The NatureMama plus alla her babies are getting wakeywakey a 'gain!!
"GOODMORNINGTIMES FLOWERPOSIES!!
GOODMORNINGTIMES, SHRUBBADUBS!!" …………
Over there is my bestest buddypal, ROQUEFORT S. WILDERBRICK, guys!! Let's jump on in and stuff!! ………..
"ROCKY" has been a 'mazing since we had to say our byebyes to SKYROLLER BLOO!! Yup!! Truestory it put ouchies in our HappyHearts to say byebyes to Skyroller, butt I am not even joshing … ROCKY IS A 'MAZING ROLLYCAR, YOU GUYS!! YUP!! …………..
TA-DA!!
(* Outside Western University Engineering)
Here we are, guys!! For THIS HappyHeartMission, it is just me plus Pop 'cuz Mirabelly can't come 'till she is all better, butt no worrythoughts 'cuz I broughted somethings SOOPERSPECIAL to help make this HappyHeartMission SOOPERFUN AWESOMETIMES for everybuddy!! YOU WILL SEE!! …………
'Cuz there is just me by my lonesome, I got a teensy wooden hill this times, BUTT … can you see!!?? ……..
I BROUGHTED MY GENTLEMAN FANCYCLOTHES FOR PUTTING HAPPY IN HEARTS!! Hee hee!! ………….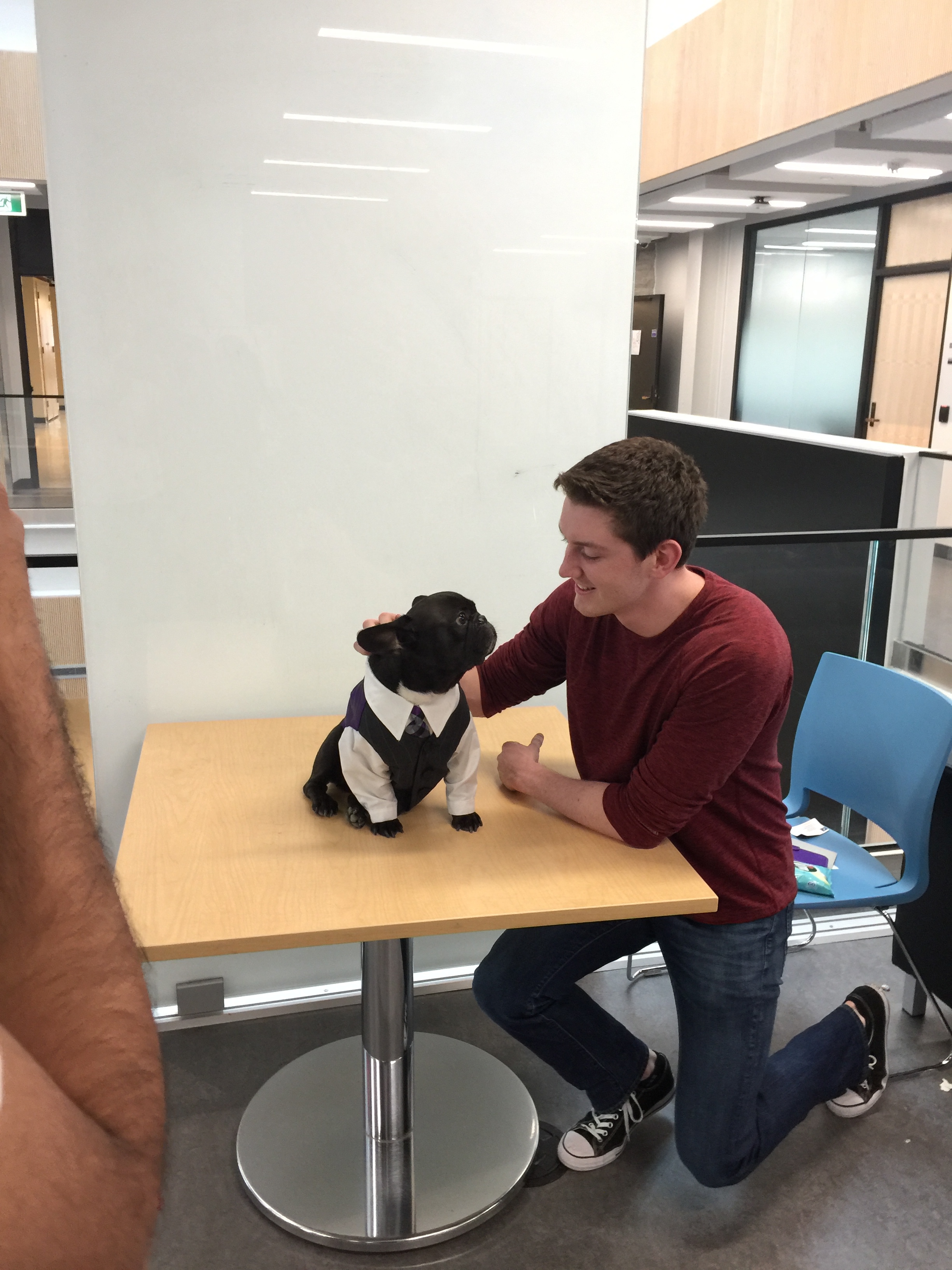 Everybuddy luvluvloved seeing me in my gentleman fancyclothes, guys!! Sure did!! Plus I got to hang out with a whole buncha soopercool studentpeoples too!! YES!!
Butt it was even waymorecooler than THAT, guys!! Check it out!! ………….
Then we went over THISAWAYS to find even MORE studentpeoples to hang out with!!
Isn't this place GIGANTICAL!!?? IKNOW!! …………..
Turns out this was a sooperspecial daytimes 'cuz lots'nlots of studentpeoples had to do PRESENTATIONAL TALKERY for brainlearning points!! Yup!! They had to do talkingtimes 'bout n'ventions or incorporational companybusiness stuff they made with their very own brainmelons!! SERIOUSFACE!!
That is how come there is so much hustlybustlings goings on!! ………..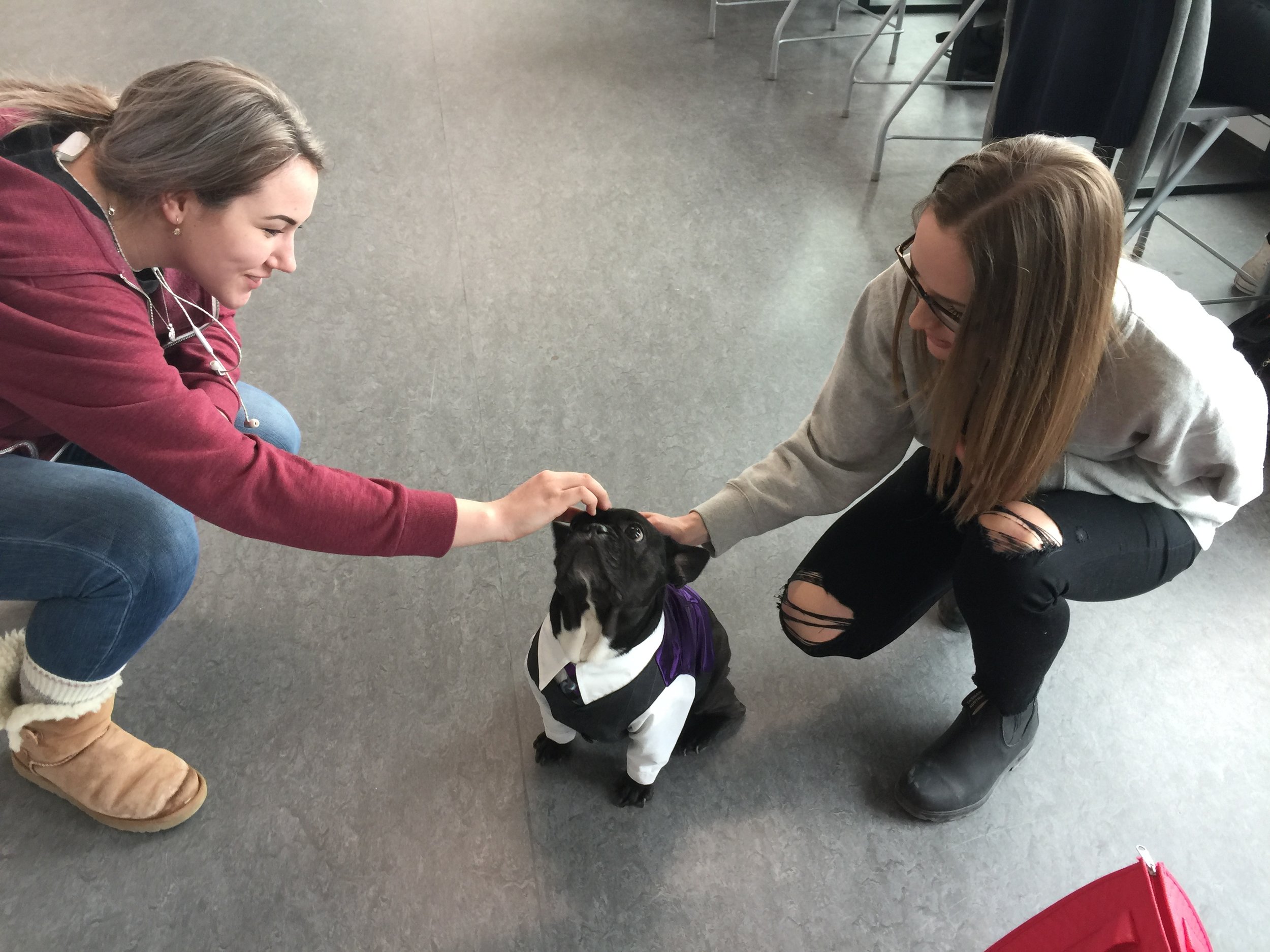 Plus then somethings even MORE 'MAZING happened!!
Yup!! See ….. One of the bunches of studentpeoples was just a 'bout to do presentational talkery 'bout their 'nvention, guys!! Plus their n'vention was ………
THIS AWESOMETIMES ROBOT
THAT GIVES PUPPIES TREATS AUTOMAGICALLY!!
I am not even joshing!! How soopercool is that, guys!!?? Pretty much the coolist, amirite!!?? IKNOW!!
'Course they wanted me to poserate with it, so I said … "COURSE!!" Hee hee!! ……….
OKEEDOKE!! One more place for going to, guys!!
FOLLOW MY BUTTPARTS, K? K!! …………….
HERE WE ARE, GUYS!!
THE SOOPERSECRET ROOM
FOR WHERE PROFESSOR-TYPE TEACHERATORS
TAKE IT EASYBREEZY!!
Let's get comfy and stuff!! …………..
Pretty swanky, amirite!!?? Pretty much!!
Get comfycozy, plus take it easybreezy 'cuz I have ONE MORETHERS thing to tell you 'bout, K? K!!
Now is when I am gonna tell you alla 'bout ……. HOW OUR MIRABELLY IS DOING!! YES!!
Did you have thinkingthoughts I was gonna share a whole, entire picturestory with no shinynew informational wordybits 'bout Mirabelly!!?? Ha ha!! Sillies!! …………
OKEEDOKE. Basically, Mirabelly is doing 'MAZING. Yes. On the Mondaytimes we went allaways back to where they put a zipper in her back so's the doctoranarians could see how she was getting waymorebetter. Yup. And guys …
THEY COULD NOT EVEN HARDLY BLEEVE THEIR LOOKINGMARBLES!!
Seriousface!! Her zipper stripe is healerating 'mazing, she is walking waymorebetter than they thoughted she would PLUS … they said she can do littlebits more walkingtimes for the nextest TOO WEEKTIMES, plus after THAT…
SHE CAN DO WALKINGTIMES OFF LEAD!! …..
Basically everybuddy at the hospitalhouse luvluvloved her plus said she was MAGICALISH, plus Mirabelly had the BESTEST times 'cuz she got big piles of a 'ttention plus big piles of COOKIES TOO!! Hee hee!!
They checked her out for mostly a whole, entire hourtimes, plus made her do walkingtimes, sittingtimes, standingtimes allover everywheres, plus they even broughted studentpeoples who are brainlearning how to be doctoranarians to look at her too!! Yup!! They wanted to see her basically DO EVERYTHINGS!! Guys …they even wanted to see how good she could do her "chores", so wanna know what she did THEN!!??
SHE POOPED IN THEIR HALLWAY
FOR CRYING OUT PETE!!
Ha ha!! It was sooperfunny, guys!! Plus they weren't even cross!! Nope!! Not even!! Hee hee!! …………..
Anyhoozle ….. Mirabelly is doing sooper'mazing, plus the very next daytimes she went back to HEALERATING SCHOOL to do lotsa walkingtimes inna FISH CLOSET a 'gain, plus Mum plus Pop got lotsa shinynew exercizeries for her to do and stuff 'cuz she is healerating so sooperfast, butt mostly we are all sooper'cited 'cuz she is gonna be able to DOOP DEE DOOP real soon, guys!! REAL SOON!!
Shanksh for coming on my HappyHeartMission everybuddy!! Sure was 'mazing to hang out with you a'gain!! Sure was!!
So 'tiil nextest times … take real good care of yourselfs for me 'cuz wanna know why!!??
'Cuz I luvluvlove you guys!!
From me, plus Mirabelly, plus the whole, entire Brindlebunch ….
See you latertimes, everybuddy!!
H❤️H❤️H❤️