IT'S MIRABELLE'S FIVAL BIRTHDAYTIMES, EVERYBUDDY!! (14 photos + galleries)
HEY, GUYS!! 😊❤️😊❤️😊❤️
Golly!! ** BUTTWIGGLE ** Are we ever Happy to see your faceparts!! YUP!! Did you know!!?? It is a sooperspeciual daytimes for the Brindlebunch, plus we really, really reeeeeeeeeeeeeeeeeeeeeeeeeeeeeeally wanna share it with you too, K? K!! ……
You are not even gonna bleeve it, butt …
IT IS MIRABELLY'S FIVAL BIRTHDAYTIMES!!
😋🎂😋🎂😋🎂
SERIOUSFACE!! Crazybananas, amirite!!?? Feels like just yestertimes that she was just a teensy juniorperson for crying out Pete!! ……..
Butt truestory for reals no joshing seriousface Mirabelly is FIVAL YEARTIMESOLD and stuff!! IKNOW!!
Plus for this whole, entire daytimes, the Brindlebunch has been having HappyFunTimes with basically eleventy majillion sooperfun activities all for putting Happy in our Mirabelly's SaucyHeart!! YUP!! 😊❤️
Mum plus Pop made WAAAAAAAAAAAAAAAY too many picturestories to share them all right nowabouts, butt we wanna share with you the most sooperfunnist part of all, K? K!! CHECK THIS NEXTEST PART OUT!! ….
TA-DA!! 😊❤️😘❤️😍❤️
Can you SEE, guys!!?? Can you see me plus Mirabelly in our Birthdaytimes HATS waiting for MUM plus POP to put MEATYCAKE in our Bellies!!?? SOOOOOOOOOOOOOO YUMMY, GUYS!! …………….
I like to call THIS Birthdaytimes cake the MEAT'NGREET CAKE, 'cuz wanna know why!!?? …………
'Cuz soon as I sniff it with my smellerator I wanna …
…… INTRODUCE IT TO MY BELLYPARTS!!
Ha ha!! Bellychuckles and stuff, amirite!!?? We are having fun and stuff!! Hee hee!! ……..
For REALS Mirabelly luvluvloves Mum's meatycake, guys!! Basically more than anythings!! Plus she would put the whole, entire thing into her belly if we letted her, so …..
Just to make sure Mirabelly does not go crazybananas for her Birthdaytimes meatycake, MUM plus POP 'cide how much we are 'llowed to put in our bellies!!
"MUM!!?? POP!!?? TRUESTORY I AM WITH MIRABELLY THIS TIMES!! YES!!
CAN WE PUT THE WHOLE, ENTIRE THING IN OUR BELLIES!!??" …
Butt that is not what happened, guys!! Nope!! Mum plus Pop said we would 'splode if we put the whole, entire meatycake in our bellies, SOOOOOOOOOO ….
After Mirabelly blusterpuffed alla the flickerflames offa her meatycake, we zoomered into the foodroom where Mum made it into littler bits for us to gobble up real good!! HAVE A LOOKSEE!! ……….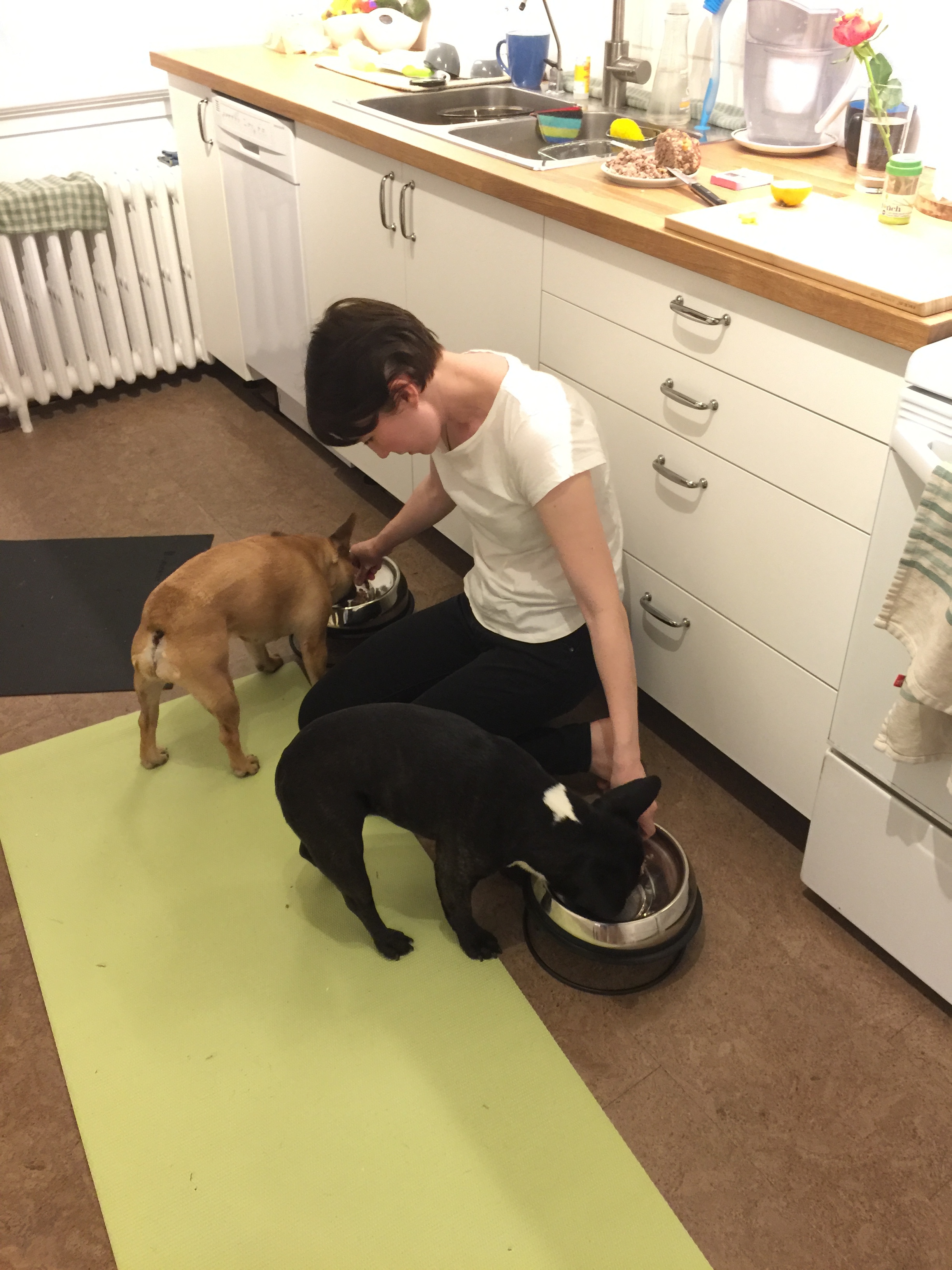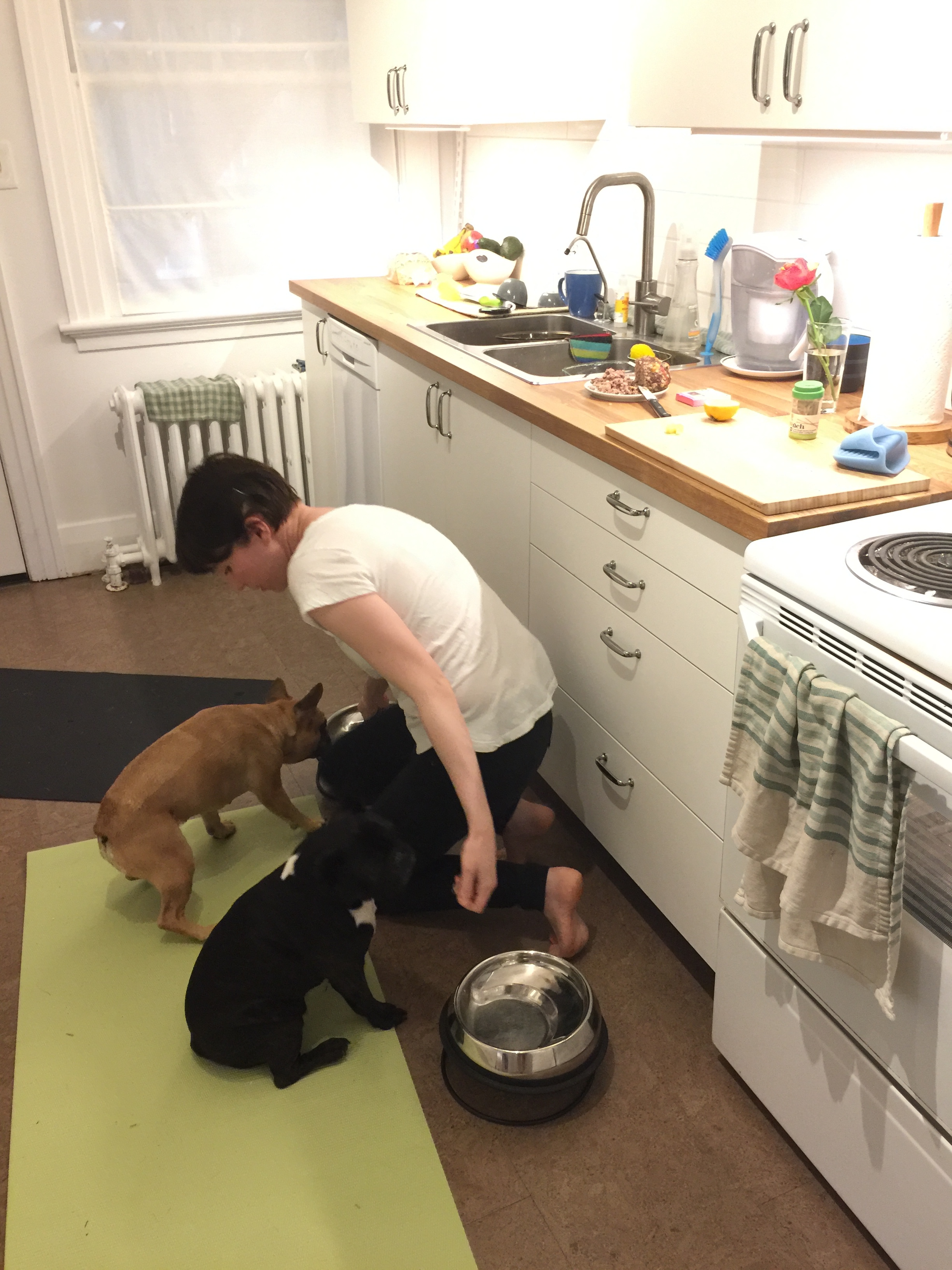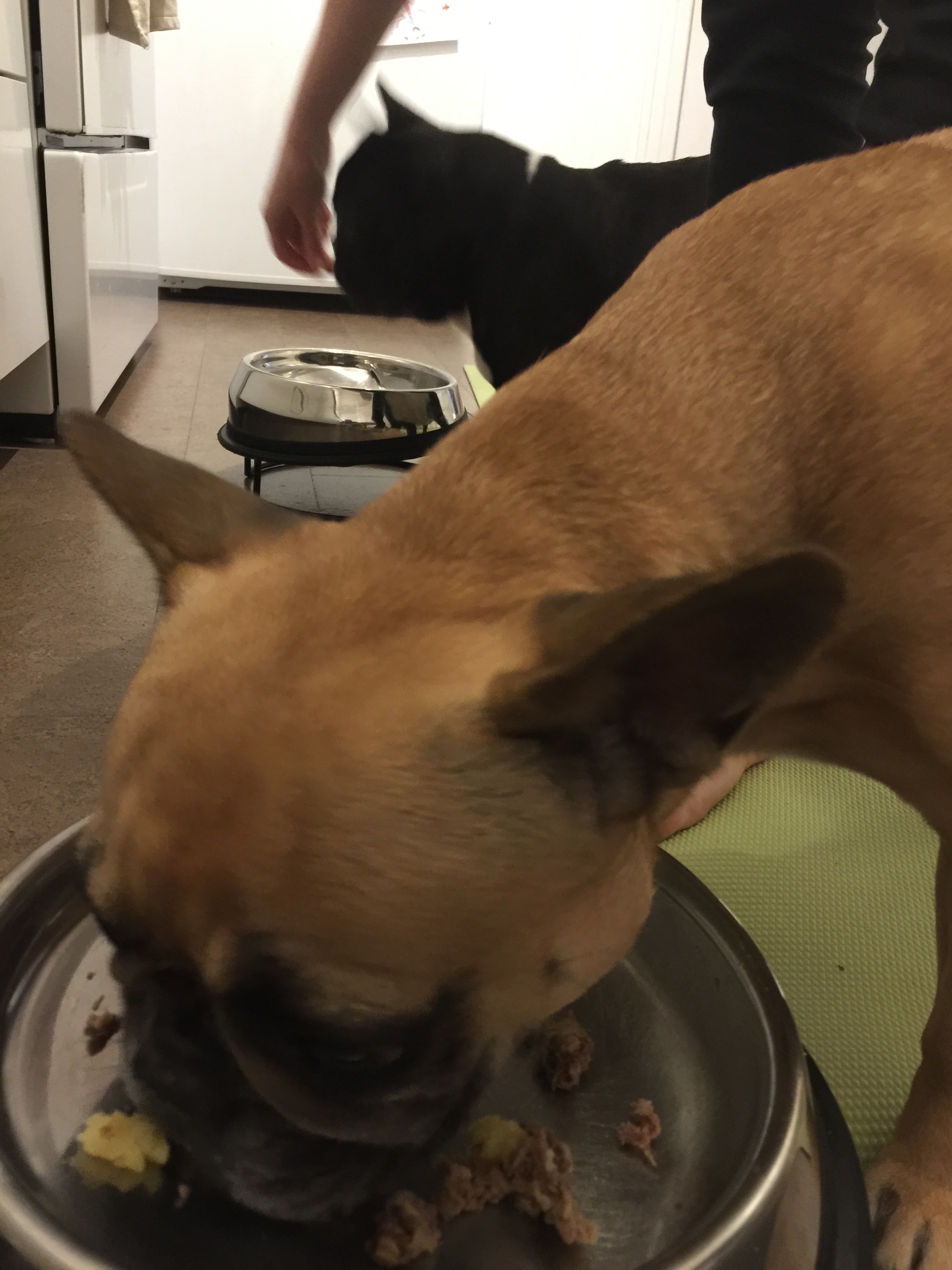 Guys …. IT WAS SOOOOOOOOOOOOOOOO YUMMY FOR OUR TUMMIES I cant even tell you and stuff!!
Lookit Mirabelly's lookingmarbles for crying out Pete!! They are jumping out of her brainmelon!! Ha ha!! …….
Anyhoozle …. after filling our bellies, we all jumped up on the chestercouch for cozypile snugglesnorts!!
Truestory THAT is a whole 'nother storytimes I will tell you 'bout latertimes, K? K!! I am talkings 'bout HOW our Mirabelly got up on the chestercouch!! Yes!! 'Cuz you guys 'membered to not forget Mirabelly is not 'llowed to jump up or offa stuffs anymores, rigfht!!?? RIGHT!! Butt she got a sooperspecial BIRTHDAYTIMES GIFTYPRESENT that makes it soopereasy for her to get up there no problemmo!! YOU WILL SEE LATERTIMES!! ………
Promiseface I will show you alla 'bout it nextimes, butt for the nowabouyts, have a real good looksee at me plus Mirabelly doing crazybananas BESTIEWRESTLING for bellychuckles!! Hee hee!! …………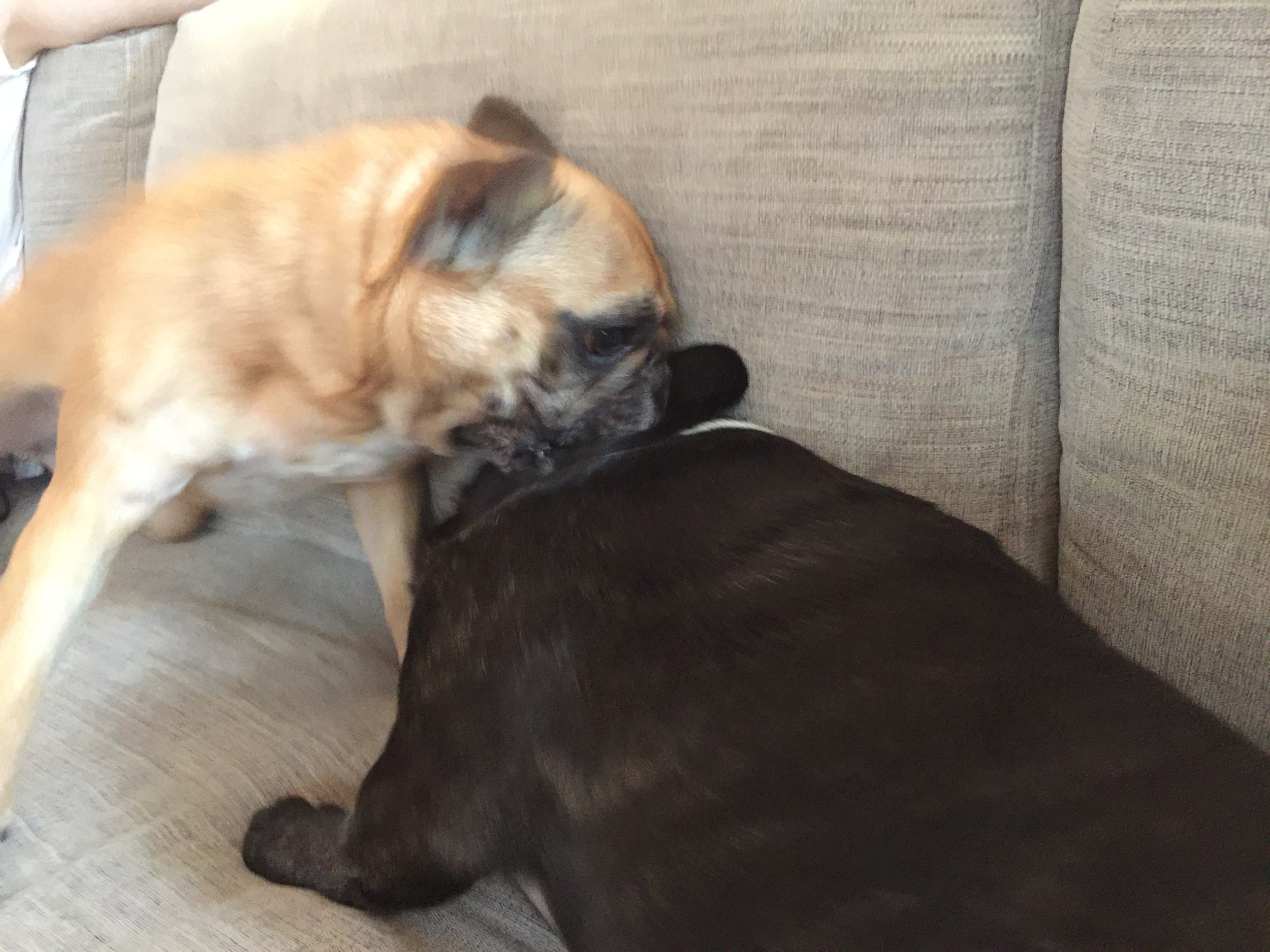 Mirabelly bopped my faceparts, chewed on my flubberybits, plus even jumped on my brainmelon, guys!! Basically it was the BESTEST!! Ha ha!! Anythings for my baby sisterperson for her BIRTHDAYTIMES, amirite!!?? 'COURSE!! ………….
YUP!! 😊❤️😊❤️😊❤️
MIrabelly's FIVAL BIRTHDAYTIMES has been full-up with AMAYZAZING AWESOMETIMES this whole, entire daytimes, guys!! Plus I am not even joshing we did waymorelots than just what we shared so's far 'cuz there was exploradventuring in our neighbourhood, 'mazing giftypresents, sooperspecial exercizery, plus a whole lot morethers too!!
Promiseface we will share the whole entire daytimes with you soopersoon, K? K!! …………
UH-OH!! 😮😝😜
Mum plus Pop say Mirabelly's BIRTHDAYTIMES FUNNERY is not over yet, so we gotta GO-GO-GO!! ………
Wishowish you guys were here too, 'cuz the whole, entire Brindlebunch would luvluvlove to share Mirabelly's sooperfun Birthdaytimes with ALLA you guys!! YUP!! Wanna know how come!!?? …
'CUZ WE LUVLUVLOVE YOU GUYS!!
H❤️H❤️H❤️
Yup!! Forever plus everever!! That's a facteroid, guys!! So … from me plus Mirabelly plus Mum plus Pop …
Have a real nice nightynightimes, plus come see us in the Dreamingplace when you get sleepy in the brainmelon, plus 'member to not forget to take real good care of yourselfs too, K? K!!
See you latertimes,everybuddy!!
😊❤️😊❤️😊❤️