HAPPYMERRYWEEKENDTIMES, EVERYBUDDY!! (40 photos + Galleries)
Hey, hidey-ho friendlyfriends!! 😊❤️😊❤️😊❤️
Did you know!!?? It is the WEEKENDTIMES and everythings!! Yup!! Me plus Mirabelly do not share picturestories on the weekendtimes so much, butt …. truestory for reals no joshing seriousface …
WE MISSED YOU GUYS LIKE CRAZYBANANAS!! 😊❤️ …
PLUS … we have 'couple of sooperfun picturestories we are sooper'cited to share with you too!! Sure do!!
You guys wanna know why ELSE me plus Mirabelly wanna share picturestories with you right NOWABOUTS!!?? DO YOU!!?? Well …
❤️❤️❤️ 'Cuz we luvluvLOVE you guys!! ❤️❤️❤️
YUP. I am sayings that from the basement of my HappyHeart, too!! OH!! Mirabelly wants to tell you guys how much she luvluvloves you all by her lonesome, K? K!!
Just maybe cover your faceparts, everybuddy!! Ha ha!! …………..
Yup!! Mirabelly says she luvluvloves you the mostest, plus that she is biggest, plus that - UH-OH!! ………
Mirabelly is not even done, guys!! Plus she is sayings SHE wants to do her very own talkerating right at you, K? K!!
GET READY, 'CUZ …HERE IS OUR MIRABELLY!! …….
"YOU GUYS!!
😊💜😘💜😍💜
MIRABELLY WANTS TO SEE YOUR FACEPARTS REAL GOOD!!
UP CLOSE AND STUFF!!
SO COME OVER!!
MIRABELLY IS WAITING!!
PLUS BRING COOKIES!! YAH!!"
H💜H💜H💜 …
Good job, Mirabelle!!
Everybuddy for reals knows how much you luvluvlove them nowabouts!! Yup!!
"RIGHT YOU GUYS!!?? PRETTY MUCH!!" ………..
HEY!! I can see you guys are checking out Mirabelly's shinynew WOODEN HILL and stuff!!
Works soopergood, guys!! 'Course Mirabelly is not 'llowed to do jumping up or 'SPECIALLY down offa stuffs in our 'partmenthouse since she had her surgerystichery, so now she uses this here wooden hill Mum plus Pop got for her!! It is not her most favouritist, butt … truestory she is getting the hang of it real good!! I am not even joshing!! ………….
That 'minds me guys!!
Did you know!!?? Somebuddy SHINYNEW moverated into our buildinghouse just littlebits a 'go!! For reals!! ……
You are not even gonna bleeve who it is!! Nope!! Not even!!
It is a sooperspecial ladyperson who 'cided she wanted to n'vent a gigantical familypack right here in our buildinghouse, guys!! I am not even joshing!! Plus her name is …
MRS. WATERBOTTOM!!
Yup!! Can you SEE her!!?? It is not so easy 'cuz she is almostly as good at hiding as our buddypal STEVE THE DEER!! SERIOUSFACE!! ………
She moverated into our 'roundthebackyard real close to our buildinghouse, plus just next to the snorklehole that our dryerator robots use to blow cozywarm puffings out of!! ………..
Did you know!!?? Everybuddy has been helperating to count how many YEGGS she has n'vented, guys!!
Firstofalls there was only justa 'couple or so, butt NOWABOUTS …
There is almostly ELEVENTY YEGGS For crying out Pete!! Isn't that crazybananas!!?? IKNOW!! Plus sooper'citing too!! ………..
Only prollem is there are a buncha puppypals in our buildinghouse like me plus Mirabelly plus UNCLE DANNY plus WINTER too!! Yup!! So Pop was having worrythoughts 'bout the puppies finderating her, but making her 'fraidy … SO …
POP is doing stuffs in our 'roundthebackyard to fixerate some of the beds where our flowerposies go to the dreamingplace, plus he had a big pile of brickleblocks, so he made a WALL for keeping MRS. WATERBOTTOM safe plus sound, guys!! LOOKIT!! …………
Mirabelly does not even know there is a for reals wilderduck ladyperson on the other side of that brickleblock wall!! Ha ha!! She does not even give a care, either!! Hee hee!! ……….
Anyhoozle …. everybuddy in our whole, entire buildinghouse is making sure MRS. WATERBOTTOM is all safe and stuff, guys!!
Can you see!!?? Can you see wayfarup in the toppest right paw corner … WHO is watcherating through the windowhole!!?? Hee hee!! ……..
It is UNCLE DANNY, you guys!! 😊❤️
This is where he likes to wait for his MUM plus POP to come home, so while he is there, he is making sure MNRS. WATERBOTTOM plus alla her YEGGS are AOK!!
"GOOD JOB, UNCLE DANNY!!" …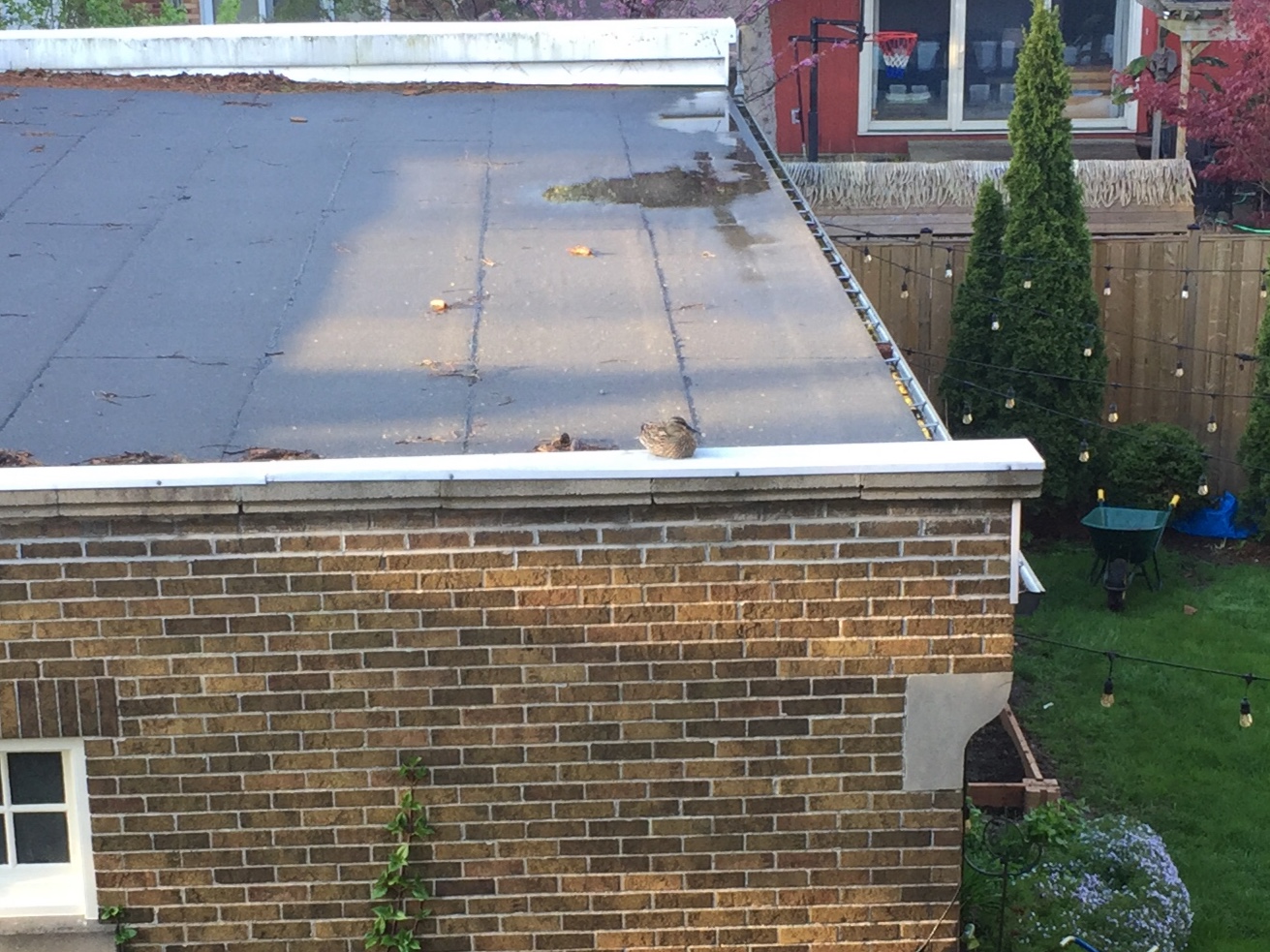 Now that she is all done n'venting YEGGS, mostly she keeps her buttparts on them to keep them cozywarm!! Yup!!
Butt someofthetimes, she likes to take a break and stuff, so she will sit on the toppest parts of our rollycar garage where she can keep her lookingmarbles on them and everythings!! She is soopersmart, guys!! YES!! …
Pretty cool, amirite!!??
Mum plus Pop say it is gonna take 'bout a monthtimes under her buttparts for MRS. WATERBOTTOM's YEGGS to open up so's her juniorpeoples can jump out!! Then … can you bleeve THIS … in only a couple hourtimes after jumping out of her YEGGS, alla her junior babypeoples are gonna follow her …
… ALLAWAYS TO MISTER RIVER!!
On their teensy flipperfeets!! YUP!! Past rollycars, plus 'cross rollycar streets and everythings, guys!! So everybuddy in our buildinghouse is gonna helperate them get there safe and everythings!! ME TOO!! …
Isn't THE NATUREMAMA 'Mazing, guys!!?? 😊❤️😊❤️😊❤️
IKNOW!! The NatureMama plus ALLA Her babies put big piles of Happy in my Heart!! YES!! So THAT is how come I was sooper'cited to visit …
THIS PLACE!! 😊❤️😊❤️😊❤️
Did you know!!?? This is the LONDON TOURISM buildinghouse where everybuddy who wants to do visitational exploardventuring comes for brainlearn alla 'bout our LONDON, ONTARIOplace!! ……
Can you see!!??
That special leafytree out front runs on SUNSMILES, guys!! Yes!! Well, I am thinkingthoughts that ALL leafytrees run on sunsmiles … sorta .., butt … THIS leafytree can SHARE alla the sunsmiles it gobbles up too!! It's SCIENCE, guys!! ………
Anyhoozle …. EVERYBUDDY who comes here knows 'bout the special sunsmile tree in the frontest parts, BUTT … 'ROUNDTHEBACK is somethings mostly everybuddy does not know 'bout!! ………..
These TOO BUILDINGHOUSES are here for brainlearning juniorpeoples alla 'bout THE NATUREMAMA, guys!!
I am not even joshing!! LOOKIT THE WORDYSIGN FOR CRYING OUT PETE!! ……….
I have been to here lots'nlots, butt I neverever knowed what these were for!! Nope!!
Not 'till I got n'vited to come visit that is!! Plus soon as I got n'vited I got SOOPER'cited, 'cuz I luvluvlove to do brainlearning, everybuddy!! 'Specially 'bout THE NATUREMAMA!! ………
Can you see!!??
When I got to the doorwaypart they even scribbled my NAME tonnit!! Isn't that the NICEST!!??
IKNOW!!
Only prollem was when I lookerated inside … NOBUDDY WAS HOME, GUYS!! So that is when I 'cided to go find everybuddy down by the GIGANTICAL PUDDLEPONDS!! CHECK IT OUT!! ….
See!!??
This here special brainlearning school is right 'side the WESTMINSTER PONDS!! There is a whole buncha soopercool wildertrails allaways 'round these gigantical puddleponds, plus I have been on alla them!! YUP!!
So I came out to here plus that is where I founded everybuddy hanging out, plus talkings 'bout … THE NATUREMAMA!! …..
TA-DA!!
Lookit alla the shinynew INTHESAMEPLACEFRIENDS I made, guys!! The BESTEST, amirite!!?? Plus lookit how beautifullish the puddleponds are, guys!! Just LOOKIT!! ………..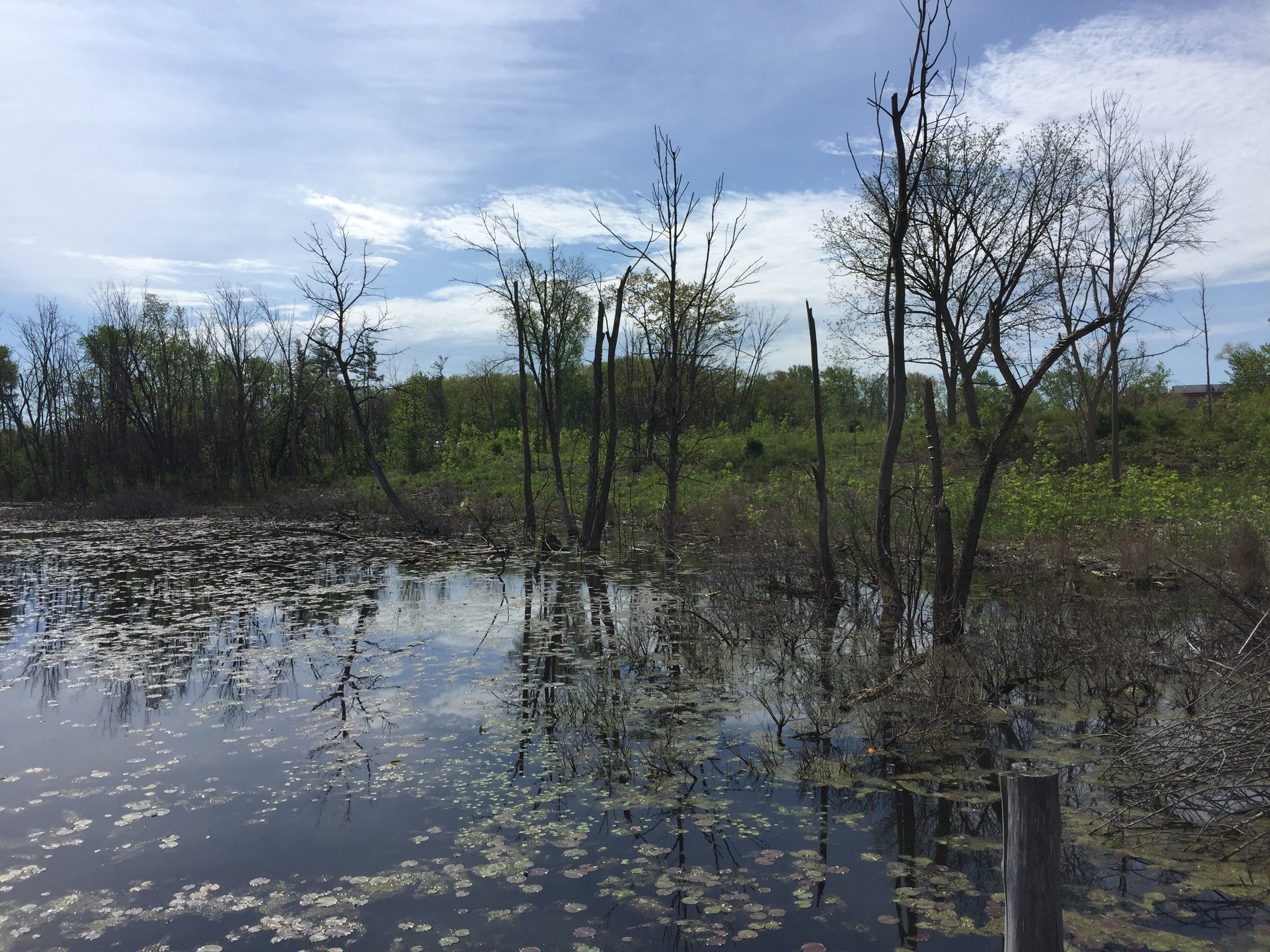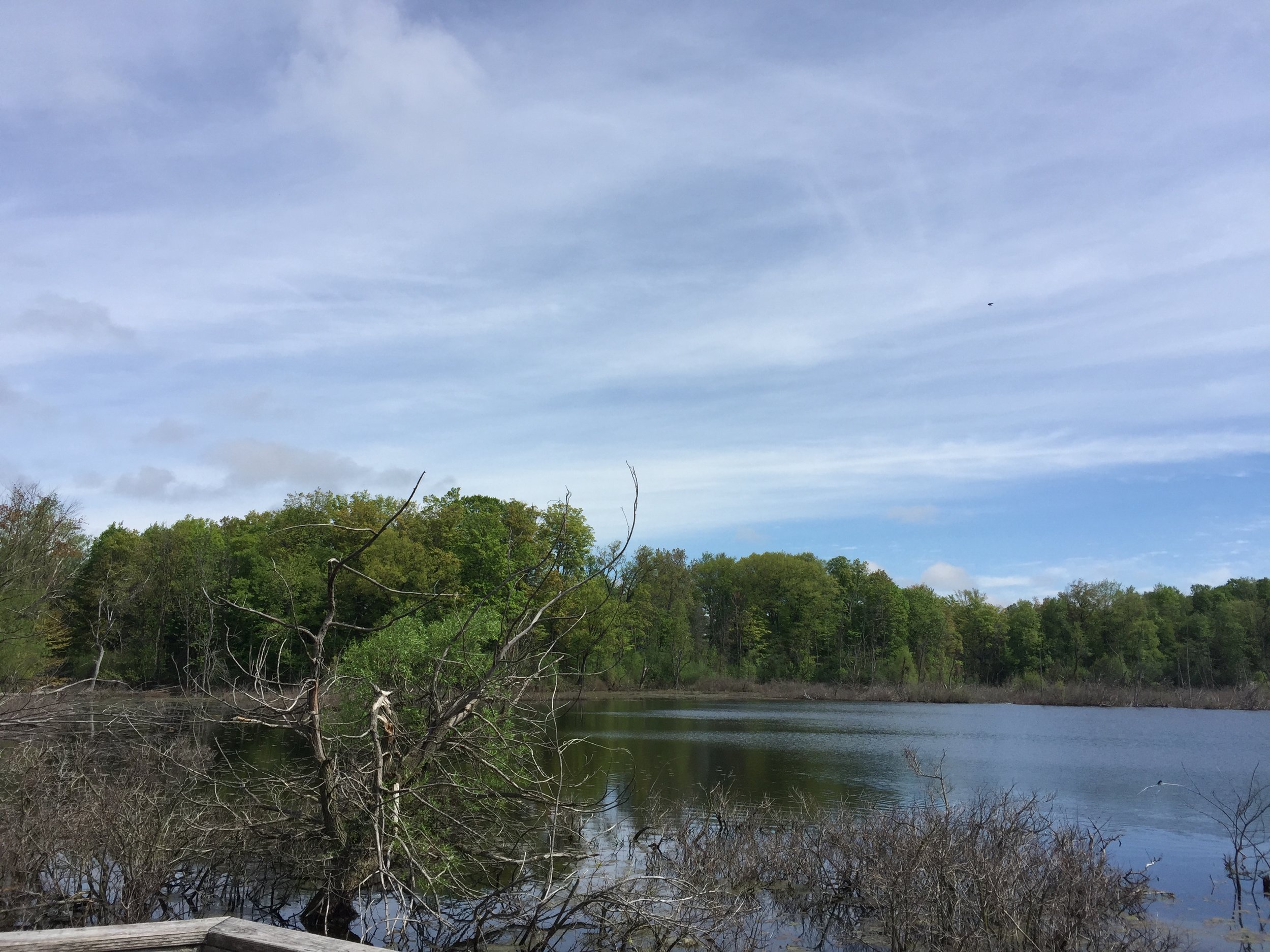 So if you everever come to our LONDON, ONTARIOplace, then maybe you would like to do some exploradventuring at the WESTMINSTER PONDS!! Maybe!! Plus if you come …
… 'MEMBER TO N'VITE ME PLUS MIRABELLY TOO, K? K!! ….
So shanksh to everybuddy at the ENVIRONMENTAL LEARNINGSCHOOL for n'viting me to come hang out with you!! Was sooperfun, plus I am hoping I get to come back a 'nother daytimes too!! YES!! Maybe Mirabelly can come too!! …………..
So that is alla our picturestories for this times, guys!!
Shanksh to you for coming to hang out with us!! Truestory that means lots'nlots 'cuz did you know!!?? SHARING WITH YOU GUYS is basically our most favouritist thing!! …….
Me plus Mirabelly hope you have a 'MAZING weekendtimes, plus for alla our friendlyfriends in the Americaplace, it is a HOLIDAYTIMES WEEKEND CALLED MEMORINGSDAY WEEKEND!! Yup!!
So have big piles of awesometimes, plus make sure to stay safe too 'cuz wanna know why!!?? ………
❤️❤️❤️ 'CUS WE LUVLUVLOVE YOU GUYS!! ❤️❤️❤️
😊❤️ Forever plus everever!! ❤️😊
See you in the Dreamingplace, everybuddy!!
H❤️H❤️H❤️