IT IS ALMOSTLY DOOP-DEE-DOOP DAY, EVERYBUDDY!! (30+ photos)
OH!! HEY, GUYS!! 😊❤️😘❤️😍❤️
Have you been herebouts for sooperlong!!?? Sure hoping nope!!
Truestory it is sooperfun awesometimes to see you here in the wilderwild!! Sure is 'cuz wanna know why!!?? ……..
'Cuz basically that means there is TOO whole somethings that me plus Mirabelly luvluvlove all in just WON teensy chunk of place!! YUP!!
The NatureMama 'course, plus …
YOU!!
😊❤️😘❤️😍❤️ ……..
I luvluvLOVE to sit my burly buttparts on sleepytrees like guy, plus then I close my lookingmarbles, plus let my smellerator tell me a storytimes!! YES!!
It is the BESTEST!! There is so much for smellerating out in the Wilderwild, guys!! Seriousface!! ………..
'Course if I am gonna close my lookingmarbles, then it is all up to our Mirabelly to watch for…
ROBOT BEARS!!
They are the WORSTEST!! Lucky for me Mirabelly is soopergood at making sure no ROBOT BEARS steal our treats, guys!! For reals!! Did you know!!?? We have not even losted WON yummysummy treat to ROBOT BEARS since Mirabelly was n'vented!! …….
Great googilymoogily!!
That 'minds me!! Do you guys know what tomorrowtimes is!!?? DO YOU!!?? ………..
Guys… I am not even joshing 'cuz it is …
😊❤️ DOOP DEE DOOP DAY!! ❤️😊
IKNOW!!?? Isn't that 'MAZING!!?? It has been a whiles since we have celebrated Doop Dee Doop Day 'cuz last yeartimes I was basically all retire-ated when it happened!! YUP!! …………..
Butt for THIS DOOP DEE DOOP DAY, me plus Mirabelly are hoping you guys all take a break from the hustlebustle to Doop Dee Doop in your most favouritist chunk of the Wilderwild!! YES!! ……….
Every SEPTEMBERTIMES 17, it is a special daytimes just for DOOP DEE DOOPING!!
It is sooper'portant!! Sooper'portant for your healthiness, plus for putting Happy in your Heart too!!
Promiseface!! So bleeve you me … I am for reals and everythings … me plus Mirabelly want YOU to take some times - maybe 'FORE workingtimes, maybe AFTER workingtimes, OR if you really, really reeeeeeeeelly can't get to the wilderwild tomorrowtimes, then maybe this WEEKENDTIMES, K? ……….
Just treat yourselfs to some soopernicetimes with THE NATUREMAMA plus alla her babies!!
Plus 'case you did not know …. DOOP DEE DOOP DAY is for SHARING!! YUP!! It is even WAYmorefunner if you bring a friendlyfriend!!
That is the bestest part, so nextofalls, me plus Mirabelly wanna introduce you to one of our bestest shinynew friendlyfriends you have not even metted yet!! Ready!!?? All set!!?? OKEEDOKE!! ………….
Here is alla us at the startingparts of MEADOWLILY WOODS, guys!!
Mirabelly is waiting for everybuddy to catch up with her!! Plus can you see WHO is gonna DOOP DEE DOOP with us!!?? CAN YOU!!?? ………..
'Course the burlyman on the leftpaw side is ME, Archie Brindleton ……
Plus that is MUM in the middleparts!! Plus can you see who is coming too!!?? …………..
It is our most bestest DOOP DEE DOOPING friendlyfriend BOBBI ROSE, plus her sooper'mazing puppypal …..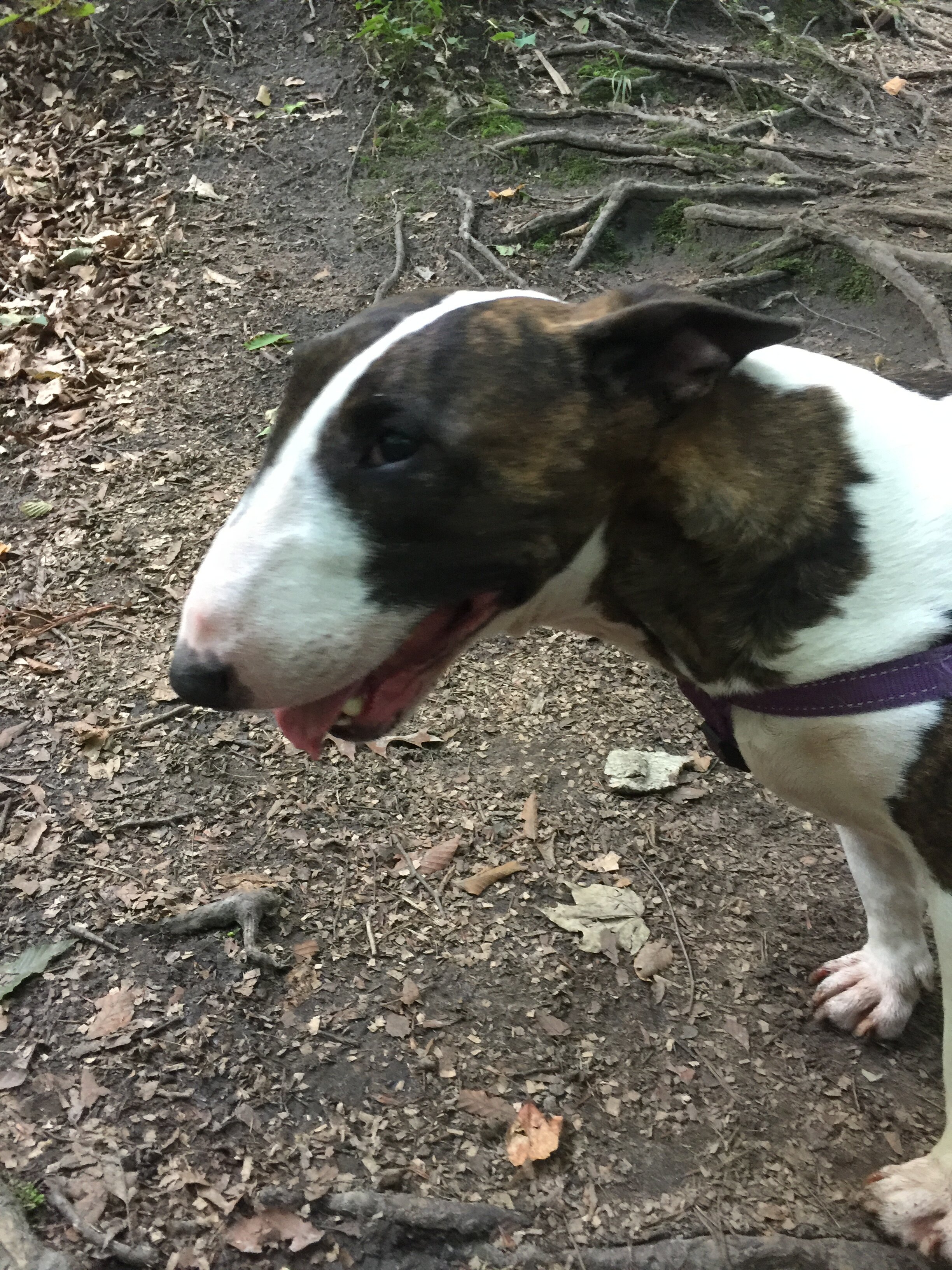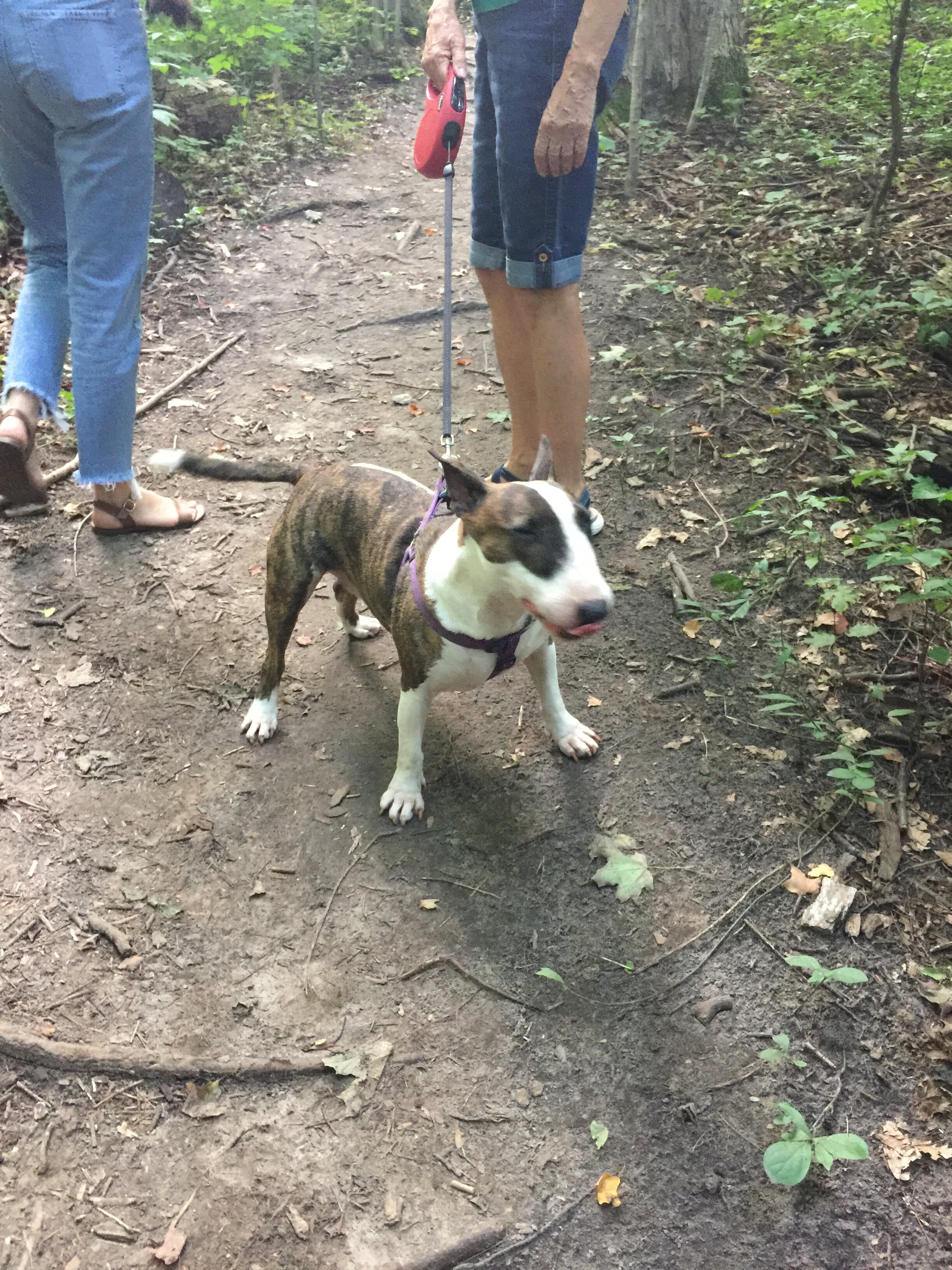 ❤️❤️❤️ MIRABEL!! ❤️❤️❤️
Yup!! Can you even BLEEVE it, guys!!?? This pretty puppy's name is MIRABEL too!! 'Cept she spells it waymoredifferenter that OUR Mirabelly!! OUR Mirabelly is spellerated
❤️❤️❤️ M.I.R.A.B.E.L.L.E.!! ❤️❤️❤️
YES!! Plus OUR Mirabelly likes to say her name is even waymorebigger too!! HA HA!! Plus THIS MIRABEL is a BULL TERRIER, guys!! Isn't she AMAYZAZING!!??
Butt the BESTEST part 'bout being friendlyfriends with THIS Mirabel is that she luvluvLOVES to DOOP DEE DOOP with friendlyfriends!! Truestory!! ……….
She is REAL good at it!! 'Course she is strong like a rumbletruck, so basically she pulls our friendlyfriend BOBBI ROSE allaways 'round the wilderwalk like she is PUDDLESKIING FOR CRYING OUT PETE!! Ha ha!! ……….
Anyhoozle … THIS is what DOOP DEE DOOP DAY is alla 'bout, everybuddy!! Spending awesometimes in the Wilderwild with your friendlyfriends, plus with The Naturemama too!!
What is that you are askerating!!?? Where is our MIRABELLE!!?? Well …
she is still getting waymorebetter after having a zipper in her backparts, so when we do sooperlong DOOP DEE DOOPINGS like THIS one ….
Our Mirabelly gets to ride in POP's sooperspecial MIRABUNDLE TRAVELBAG!! Hee hee!!
Truestory she did not like it so much at firstest, butt … nowabouts she luvluvLOVES it!! 'Specially if she gets to hang out the front so she can see everythings real good!! Ha ha!! THATS our Mirabelly, guys!! AMIRITE!!?? …..
OH!! Plus if you need special helpings to take care of your puppypal or kittypal, then call our friendlyfriend BOBBI ROSE!! 😊❤️😊❤️😊❤️
Guys… you know how seriousface I am 'bout taking care of puppies plus kitties, so I would neverever say to call just ANYBUDDY!! Nope!!
Butt if you need helpings with walkingtimes and stuffs like that 'cuz you are doing lots'nlots of workerman work or going wayfaraways or somethings like that… then from the basement of my HappyHeart I am saying you can count on BOBBI ROSE to luvluvlove your bestest fuzzyfriend 'much as you do!! YES!! 😊❤️
She is MADE of lovings, guys!! I am not even joshing!! ……………
Anyhoozle …. sure hoping you guys can DOOP DEE DOOP tomorrowtimes too, PLUS alsotimes I want to askerate you…
Would anybuddy like to be
INTHESAMEPLACEFRIENDS
with me this very Saturdaytimes!!??
"'Cuz truestory for reals no joshing seriousface, I am gonna be at a CHARITY DOLLARPENNIESRAISER for lots'nlots of KITTYCATS!! For reals!! Check it out!! ……….
Guys, there is…
WON HUNNYRED KITTYCATS THAT NEED YOUR HELPINGS!!
A whole bunch got rescued all at the 'zackt same times, plus our HUMANE SOCIETY is goings crazybananas trying to take care of alla them, so our friendlypals at 9 ROUND KICKBOXING are having this sooperspecial happening to raise dollarpennies!! Yup!!
This event is to help raise funds for the care of the 151 cats rescued from a motel room in London. The fitness facility , 9Rounds, will be hosting this event and they will be supplying free one week passes to anyone who drops by- donation or no. 9Rounds is a kickboxing routine that is completed in 30 minutes so you can get a good cardio in without a terrible time commitment. Every day it's a different routine and you can start at any time at any station (9 stations). My colleague and I will be 9Rounding for the entire day of the 21st with the hopes that people will donate for our efforts, come join in on a workout, or visit and bid on items for auction etc.

9Rounds in located in a corner strip plaze at 1422 Fanshawe Park Road W. (at the corner of Fanshawe and Hyde Park Road, with Accents Home Design, Starbucks. and Scotia Bank to name a few other stores).
You can read a bunch more wordybits 'bout it on their FAYBO PAGE right HERE:
Plus I am gonna be there with my soopersnazzy puppy gentleman fancyclothes (just like in this picturestory!!)
So if you would like to be inthesameplacefriends, plus make picturestories with me, plus help a gigantical pile of kittycats who need special helpings … COME TO HERE THIS VERY SATURDAYTIMES, GUYS!!
SATURDAYTIMES, SEPTEMBER TWENTY-ONETH
@
1422 FANSHAWE PARK ROAD
in
LONDON, ONTARIO
*(Archie will be there from 1 pm to 2 pm - MUM) ………………..
Plus did you know what else!!??
I am totally gonna be at a whole buncha FIRE SAFETY HAPPENINGS TOO!!
Yup!! So if you would like to see me in my ASSISTANT FIRE CHIEF UNIFORM like in THIS picturestory, maybe you can come see me at one of these things!!
This month:
Old Navy, Health & Safety Week on Fri, Sept 27 (6 pm to 7 pm) 1270 Wellington Rd S.
October:
Westmount Mall, Fire Prevention Week on Tues, Oct 8 ( 6-7pm) 785 Wonderland Rd S.

Costco, Fire Prevention Week on Thurs, Oct 10 (6-7 pm)
1270 Wellington Rd S.

White Oaks Mall, Fire Prevention Week on Fri, Oct 11 (6-7 pm) 1105 Wellington Rd.
Let's do some hangout-ery, guys!! …………….
Pretty cool, amirite!!?? IKNOW!! 😊❤️
Guys … it has been forevertimes since I got to make shinynew inthesameplacefriends, or do charitytimes, or fire safetytimes so I am sooper'cited for reals like CRAZYBANANAS!! ** BUTTWIGGLE **
'Course … it is 'portant to say … Mirabelly is still healerating, so she can't come to any of these happenings, butt … promiseface I will bring lotsa lovings right from her Happy Heart just for you!! YES!! …………..
Okeedoke, everybuddy!! 😊❤️😊❤️😊❤️
That is alla the times we have for nowabouts!! From me plus Mirabelly plus Mum plus Pop plus the whole entire Brindlebunch…
Take real good care of yourselfs, plus get to the wilderwild for DOOP DEE DOOP DAY, plus if you are needing waymorelots of HappyHeartHugs with extra lovings, then come find us in the Dreamingplace for crying out Pete!!
See you latertimes, friendlyfriends!!
H❤️H❤️H❤️
H💜H💜H💜
LuvluvLOVE you guys!!
😊❤️😘❤️😍❤️
😊💜😘💜😍💜
Forever plus everever!!